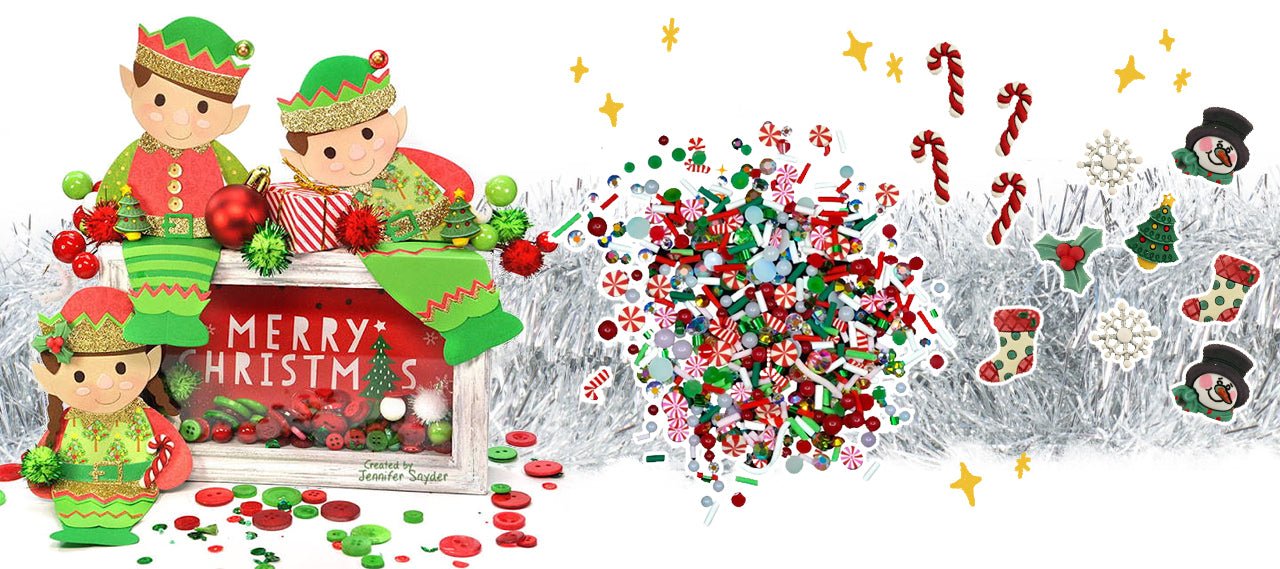 Elf Shelf Shadow Box Shaker
Bryn O'Reilly
The young parents at work are talking about the infamous elves and shelves that they have to move every morning, and I felt really left out. I decided to DIY my own little elf on the shelf. I can even move it to different rooms to change things up this holiday season. 
With this project, I enhanced a basic shadow box that I purchased at Michaels! With the help of a green and red button variety from Buttons Galore and a die set from Spellbinders, it turned out just adorable. 
FINAL PROJECT BY: JENNIFER SNYDER
Here's what I did...
I found a small enclosed shadow box frame at Michaels (sized 6in x 3.5in). I knew I wanted to make a shelf for elves to sit and the glass front was an extra bonus because I could fill it with a custom shaker mix!
I cut two body shapes—both are double thick to help the elves stay upright with additional support. I folded them to fit the frame (as shown in the image above) and glued them in place. It's that easy!
The Shaker Mix and 3D Button Embellishments
The shaker mix is a festive jolly blend of buttons, sequins, beads and colored pearls from Buttons Galore. In addition to the shaker mix, the piece was embellished using adorable 3D buttons—all from Buttons Galore and More.
PRODUCT INFO:
Embellishments: Christmas Carnival and Christmas Gala
3D Buttons: Christmas , Candy Canes and Christmas Trees
 It's time to get crafty with your own shadow box ideas and tag @buttonsgalore on instagram to be featured!