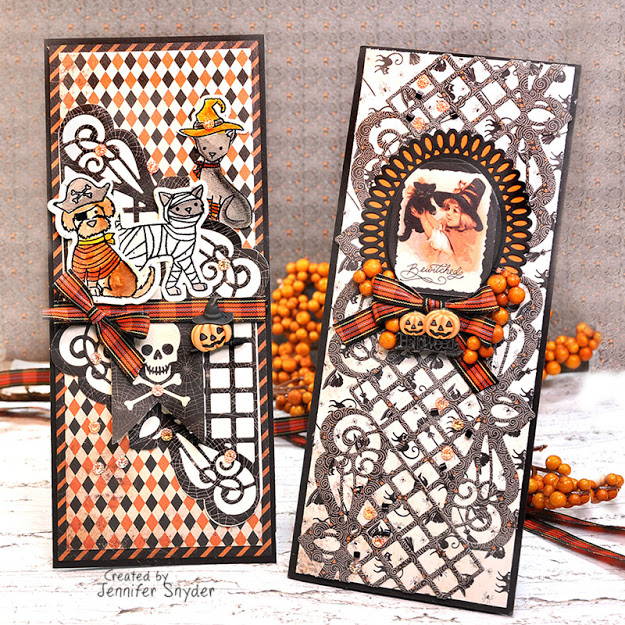 Halloween Slimline Cards
Slimline Cards are super trendy these days. Today I'm here to  share some slimline cards for Halloween using a combination of spooky Halloween  papers, creepy embellishments, chilling stamps and graceful dies turned  frighteningly scary....all in a fun way that will make someone smile with  Halloween delight. 
Here's a preview of the amazing products used today:
Papers: from Authentique's Masquerade paper collection
Embellishments  and finishing touches (3D Buttons andgems): from Buttons Galore
Dies: from Spellbinders 
Stamps: from Fun Stampers Journey/Spellbinders.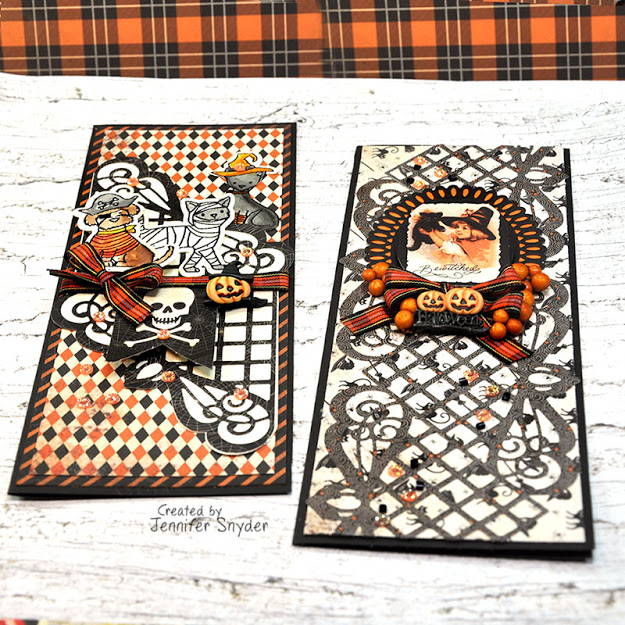 Let's start with the  papers
As I mentioned in the intro, the papers are a combination  of 
Authentique's - Masquerade Collection - 12 x 12 Paper Pad and Masquerade- 6 x 6 Paper Pad.  
As a card maker, I tend to gravitate to the 6"x6"  paper pads.  
Slimline cards typically measure 3.5" x 8.5" so it's a  wonderful opportunity for me to pull out the 12x12 papers for card making and  to use the 6"x6" pad for accents and embellishments only.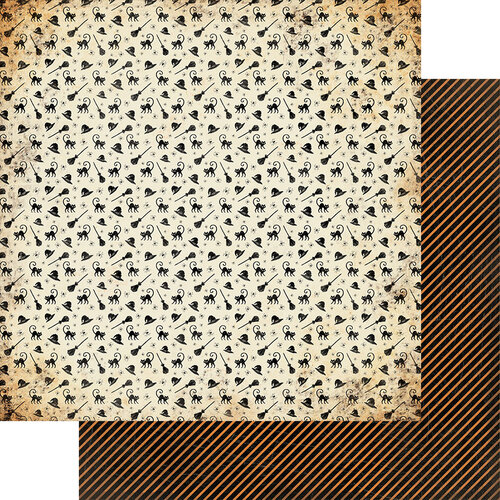 Spellbinders AmazingPaper Grace Dies for Slimline Cards
Now it's probably true that most of the dies in your stash at  home are not specifically for slimline cards.   No problem!  You  simply need to take some creative liberties and modify the dies to fit your  design needs. 
Perfect example: I used Spellbinders Amazing Paper Grace die for the  Month of September called "Lattice Quadrante" designed by Becca  Feeken. The beautiful detailed die is displayed below to fit  more of a square shaped card, however we are versatile card makers and are used  to thinking of crafty alternatives to meet our needs.  Am I right or am I  right?  Haaaa yes, I am right.  
Now it simply becomes a matter of arranging the dies on the  slimline card.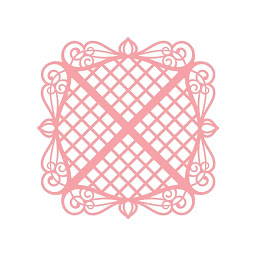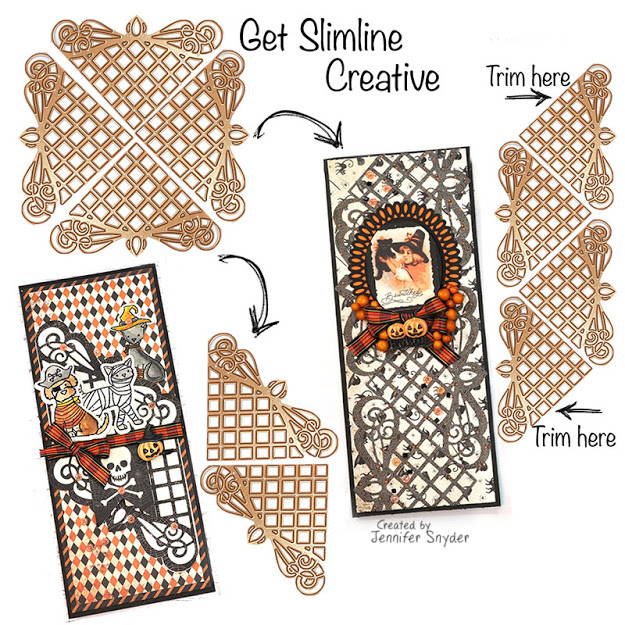 This is the first card.  I've used two Spellbinders dies  for this card; Picot Petite Ovals from - Amazing Paper Grace by  Spellbinders / Becca Feeken and Spellbinders Amazing Paper Grace Die  of the Month Membership for September 2020 -"Lattice Quadrante".
Both Spellbinders APG dies will provide yearlong  versatility.  And now you know how to use them for slimline cards  too!  
The ephemera piece is from the Masquerade - 6 x 6 Paper Pad.  It's been embellished using a 3D button from Buttons Galore  3D Buttons- Witchy and their new Buttons Galore Doo Dadz- HalloweenParty shaker mix and embellishments.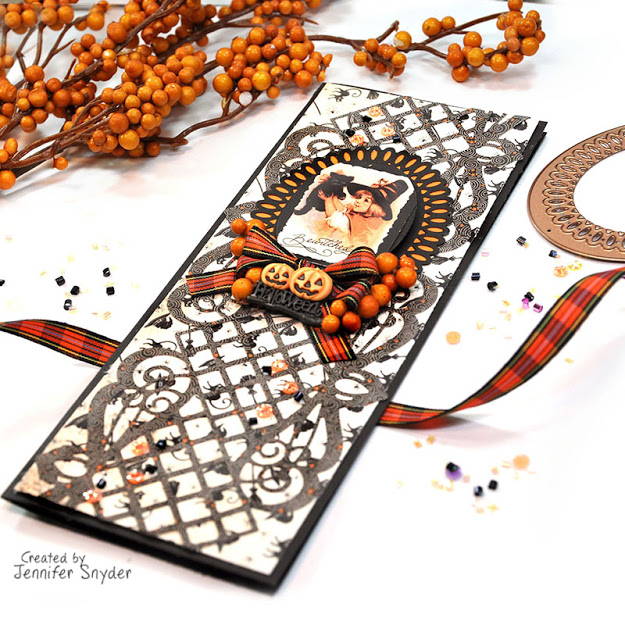 Spooky (Adorable) CardEmbellishments
The finishing embellishments are like frosting the cupcake -almost done, but adding that little "something extra" to bedazzle the  card.  That's exactly what the Buttons Galore embellishments do for these  cards, form 3D buttons, to shaker mixes, sequins and gems.  
I've added 3D decorative buttons to both cards.  One card  uses the Buttons Galore Witchy 3D button set and  the second card uses Buttons Galore 3D Buttons - TheWitching Hour.  The buttons are super easy to use on  cards.  You can cut off the plastic shank in the back of the button or  create a button "pick". 
To create a button "pick",  I thread wire through  the shank, then glue to wire piece to the card by tucking it under ribbon or  other elements.  The extra wire helps secure the button in  place.  
For example, the card shown above has a button  "pick".  The wire is tucked under the bow and ephemera oval  piece.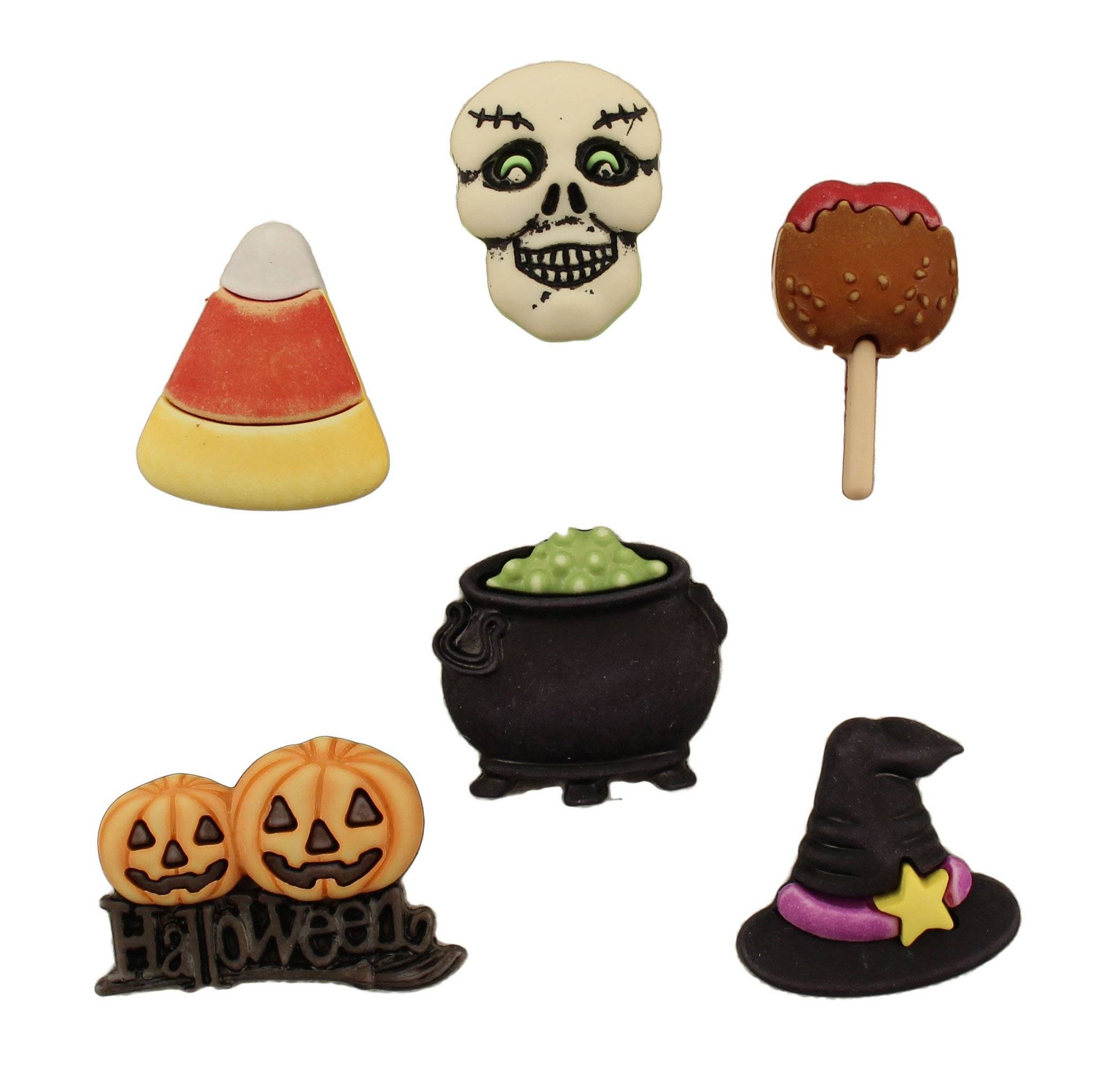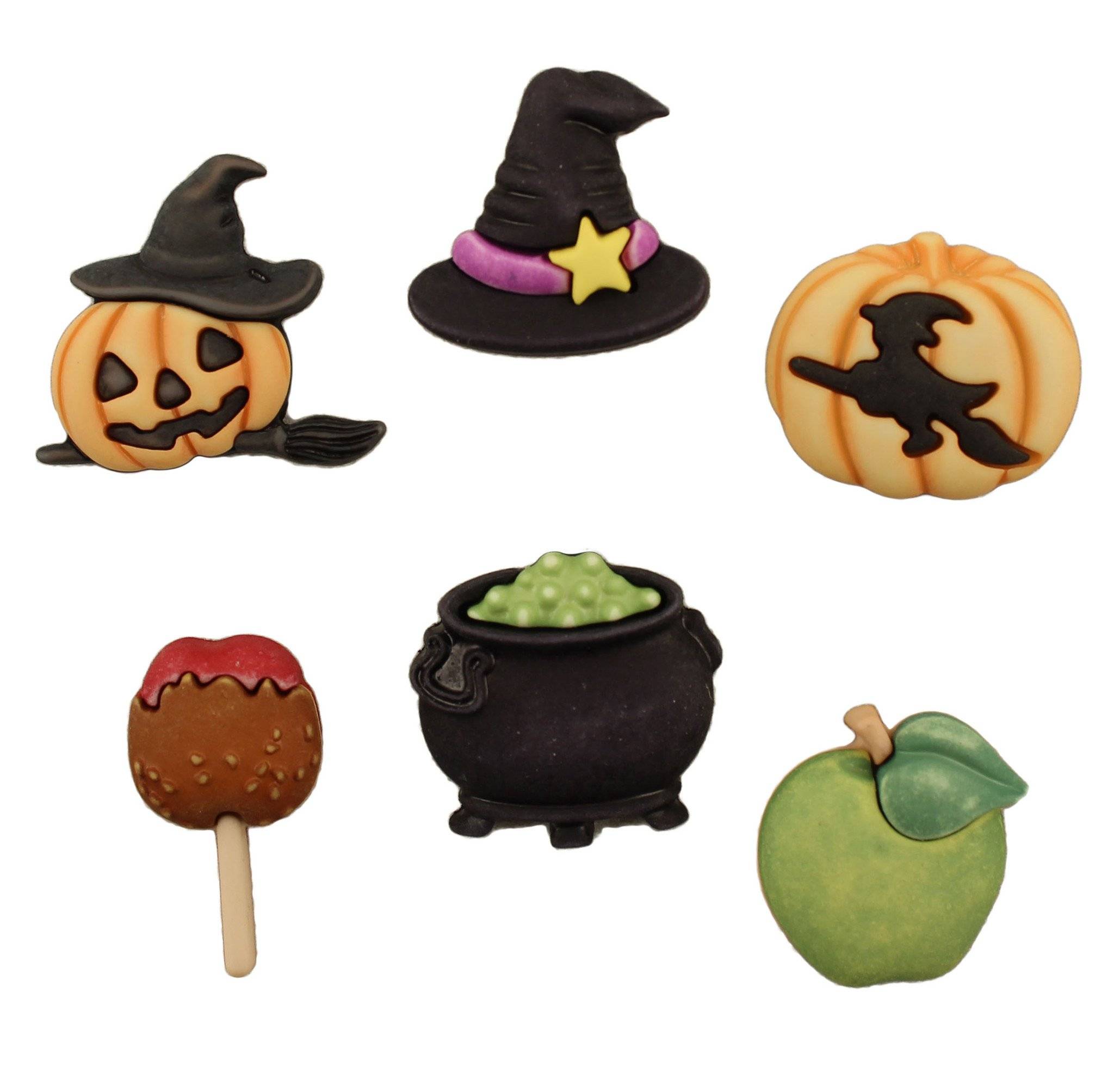 Additionally  both cards are dotted with gem accents from Buttons Galore's new Doo Dadz collection.
  Doo Dadz are sparkly iridescent diamond gems that have  flat backs making them super easy to use on cards and projects. They also come  in a festive variety of colors.  I'm using Halloween Party Doo Dadz on today's  cards.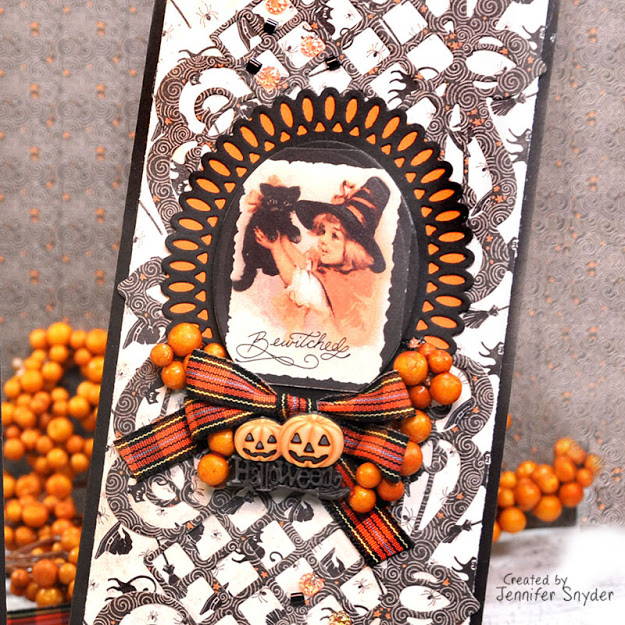 Adorable Costumed Animal  Stamps and Die Set 
Of course, I must point out the adorable costumed cuties on the  card. 
Introducing the  Costumed Cuties Stamp Set   and the  coordinating Costumed Cuties Die Set 
from the Spellbinders/ FSJ Halloween & Fall 2020 Collection.  
 Total cat and dog cuteness - I mean oh so  frightening.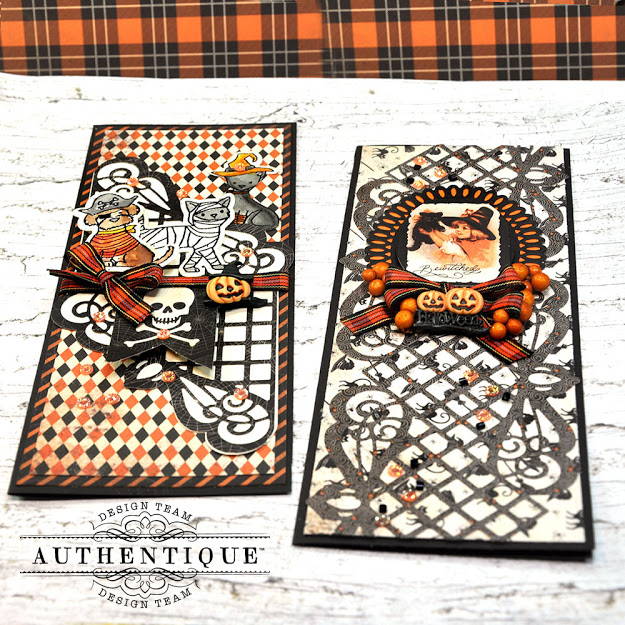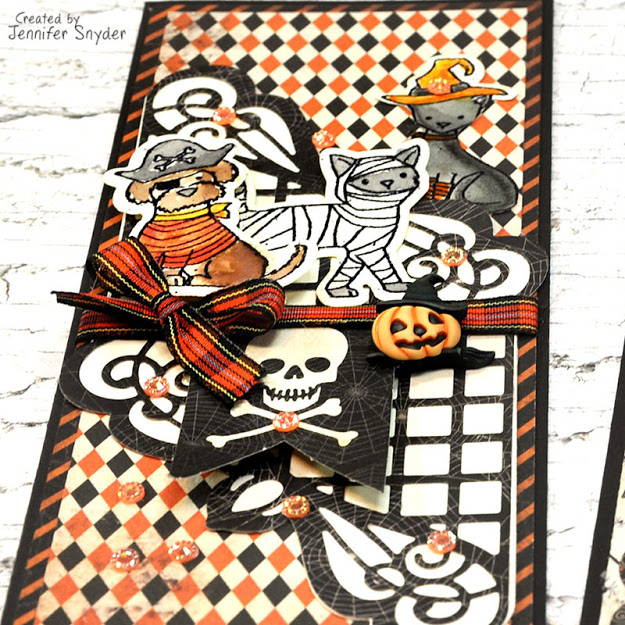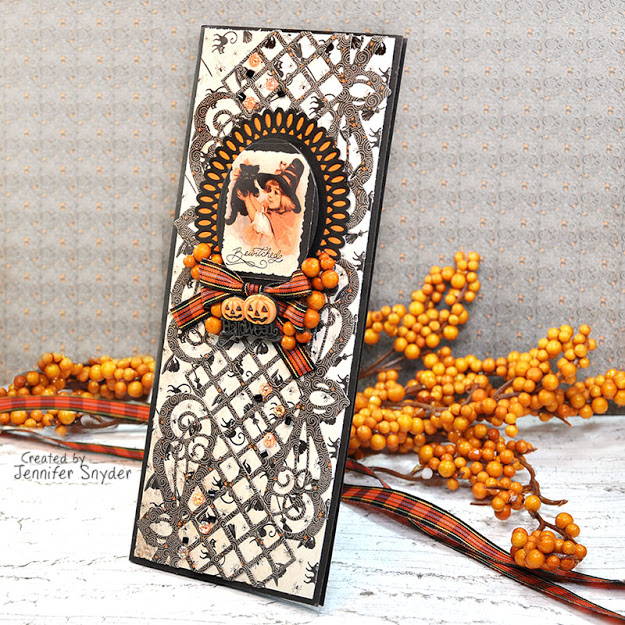 Thanks and Happy crafting.