The spring flowers are in bloom, and Mother's Day will be here before you know it! So why not combine the two to make a pretty button flower card for mom for Mother's Day?
white cardstock 12″ by 12″
yellow cardstock scrap
dark blue ink pad
Hero Arts "Celebrate Everyday" stamp set
Simple Stories "Color Vibes" papers
This 5″ by 7″ button flower card is super simple to make but so cute! And it's so easy to make that it would make a great kids' project for the holiday. 
 To start this card project, cut a 10″ by 7″ piece of white cardstock and fold in half along the 10″ edge to create your card base. 
 Cut a 2.5″ by 7″ piece of cardstock from the scraps of the white sheet. Select buttons from the Glam Girl Button Bonanza to make your button flowers with. Then, using the PPA Matte Adhesive, adhere the buttons in place using dots of glue. Set the flower strip aside to dry. 
 While the glue dries, cut a 1.5″ by 7″ strip of paper for the top of the card, and a 2″ by 7″ strip of paper for the bottom. Adhere them in place along the top and bottom of the card front. 
 Stamp "Happy Mother's Day" on a yellow cardstock scrap in dark blue ink. Trim the cardstock to slightly larger in size than the sentiment. 
 After the glue on the flowers is dry, adhere the flower strip in place across the card front. Glue the sentiment block down on the right side of the card front, over the seam between the flower strip and the bottom patterned paper.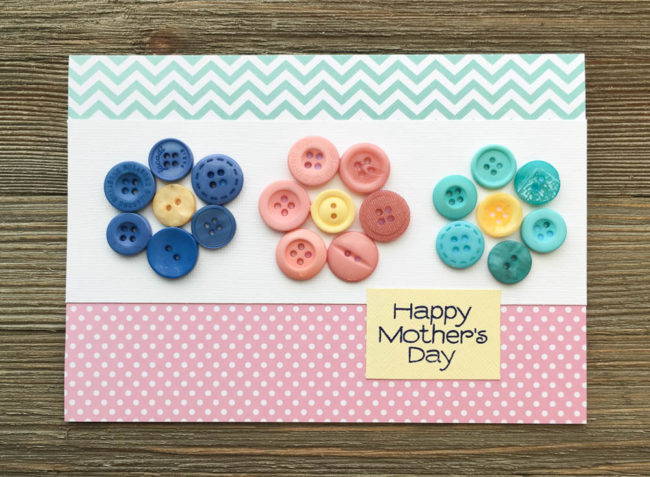 This card design is so versatile! Just by changing the sentiment, the design could also be used for a thank you card, or for a birthday, or for a variety of other occasions. It's a classic that you can use over and over! To create a smaller card, just use smaller sizes of buttons. With the Glam Girl Button Bonanza bag, you can make this beautiful button flower card over and over!