This time of year sees a lot of people we love embarking on new adventures, headed off soon to new schools, or new jobs. Wouldn't it be nice to send a piece of ourselves, and a positive message, along with them? This inspirational mixed media canvas using 28 Lilac Lane products will remind them to reach for their dreams!
Supplies from Buttons Galore:28 Lilac Lane "A New Leaf" Embellishment Kit28 Lilac Lane "Tropical Twist" Embellishment KitPPA Matte AdhesiveOther Supplies:Blank 8″x10″ canvasPlaid Milk Paint (Lexington Blue)Quick Quotes "Farmhouse" Paper CollectionPlaid Folk Art Stencil (Single Rose)Plaid Folk Art Sencil Creme (Rainbow)Ranger Tim Holtz Distress Ink (Antique Linen, Broken China, Ground Espresso)Stamper's Anonymous Rubber Stamp "Always Move…"Prima "Say It In Crystals" embellishmentsWilton Doilies (4″)Tim Holtz ideaology Small Talk StickersTim Holtz idea-0logy Jute StringEmbroidery FlossManila TagSizzix Big Shot MachineSizzix Tim Holtz Alterations "Tiny Tabs & Tags" DieTo get started on your inspirational mixed media canvas project, paint the front and edges of the canvas with the blue Milk Paint. Let the paint dry.Tear the floral "Farmhouse" paper and adhere it to the front of the canvas using the PPA Matte Adhesive. Use a baby wipe or damp paper towel to smooth down the edges of the paper and adhere them firmly. (This will have the effect of also distressing the milk paint finish on the canvas.)Once the paint and glue is dried well, use the stencil and stencil creme (in orange) to apply a rose design to the lower right hand corner of the canvas, over the paper.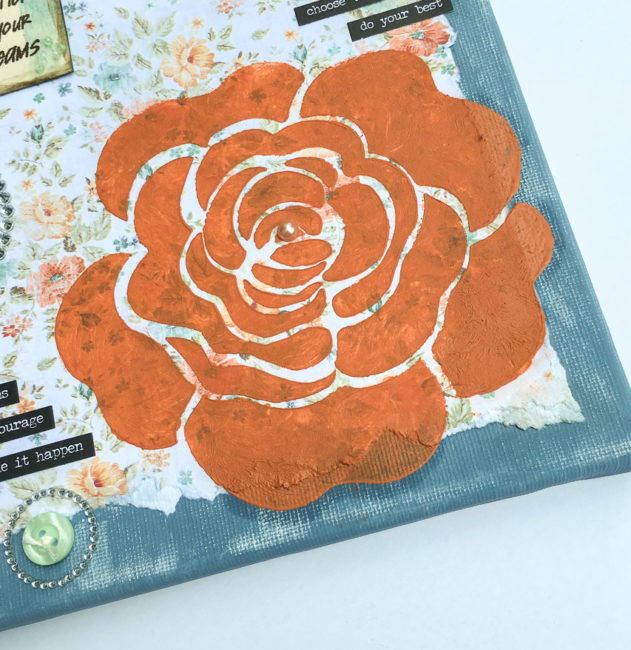 In the upper left hand corner, glue down a doilie on top of the patterned paper. When the glue is dry, smudge some Antique Linen Distress Ink on top of the cut outs in the doilie to highlight the design in them. Next, apply the twill ribbon from the "A New Leaf" kit across the top of the canvas.To make the tag, die cut the tag shape out of a larger manila tag. Ink the edges with Broken China and Ground Espresso Distress Ink, and stamp the sentiment in Ground Espresso. Tie the charm from the "A New Leaf" kit onto the tag with some jute string, and glue some seed beads from the kit to the tag's corners to finish it off. Glue the tag down.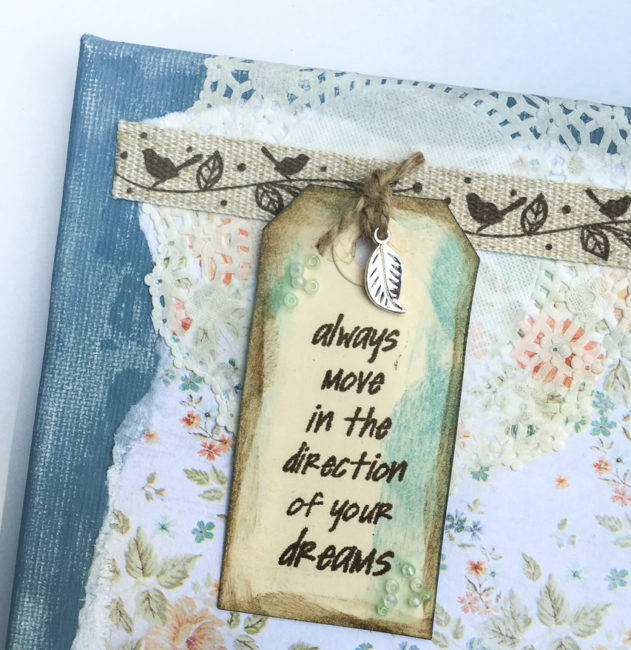 Apply some PPA Matte Adhesive in the corners of the canvas and embed some seed beads from the "A New Leaf" embellishment kit in it. Once that is dry, you can begin building the stickers, rhinestone and button elements in the rest of the canvas. Don't forget to thread your buttons before adhering them so they look finished!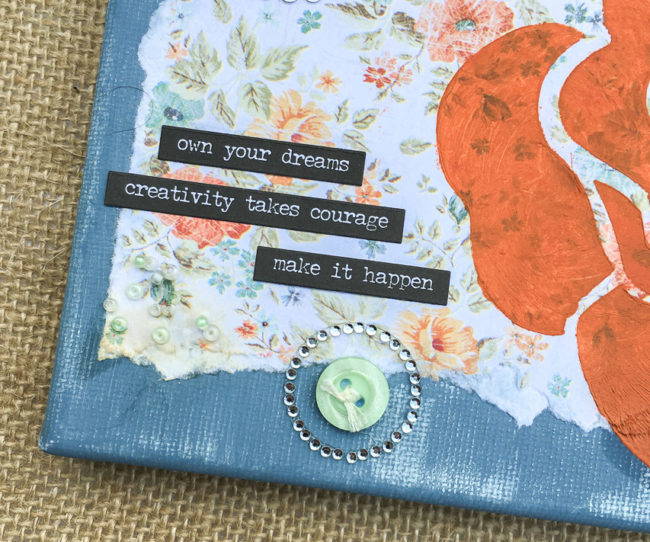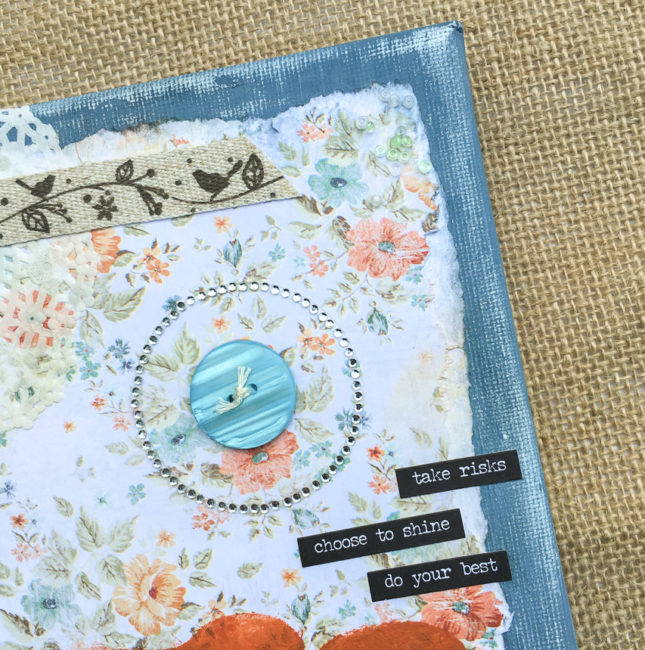 This inspirational mixed media canvas is fun and simple to make…and will let someone you care about know how much you believe in them. Who will you give it to?