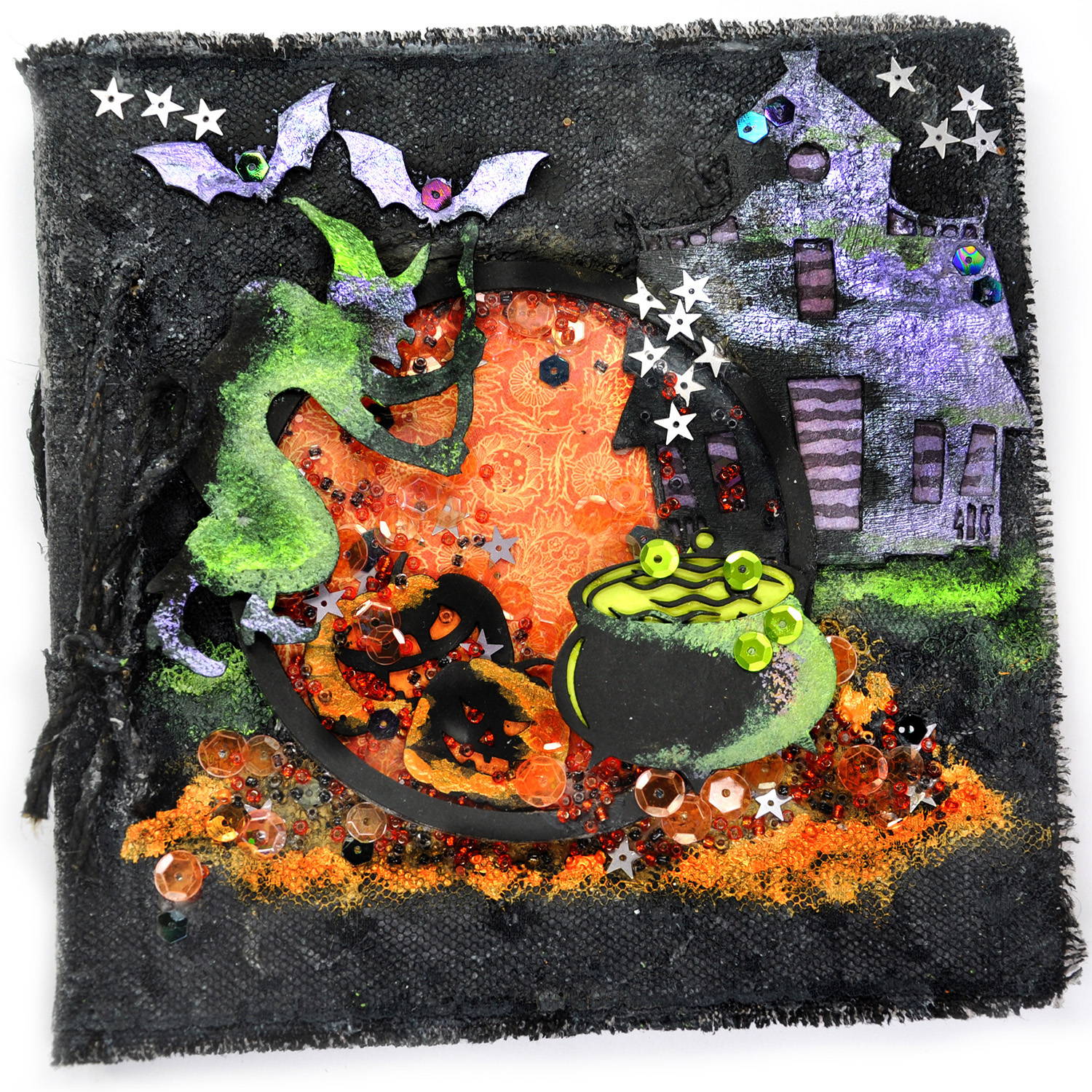 This is the start of the entire holiday season, the grand kick off from Halloween, to Thanksgiving, rolling into Christmas, New Years, and closing out the season is Superbowl Sunday. OK maybe that's not quite the line up for the official holiday season, but it's pretty close.Today I have a haunted mixed media shaker journal created from a thrift store find which happened to be a hideous burlap covered journal. It was such a homely find, passed over by so many and just waiting for me to grab it and give it new fresh life.It's amazing to see how paint and chipboard can transform things.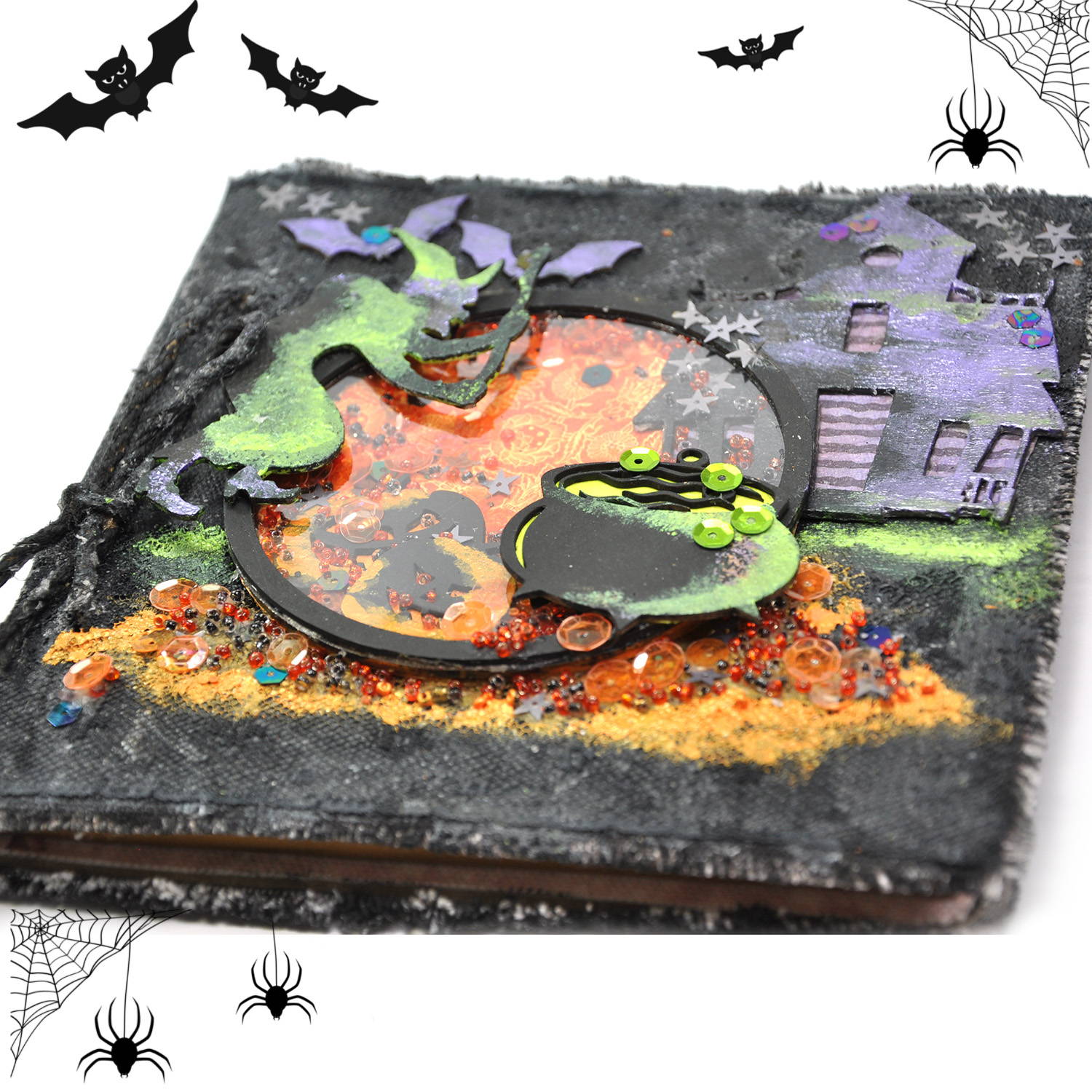 I picked out a spooky chipboard set from Creative Embellishment'sabundant Halloween selection - a very difficult task since there are somany wonderful Halloween designs.
 The  
Creative Embellishments - Holiday Halloween Scene2
isa great value because there are so many pieces in the set.  Use themall at once or split up into multiple projects- your choice. 
The 
Creative Embellishments -Circle Shaker Chipboard set
 is the second piece to this journal. Just a circle....but the options for this simple circle are limitless.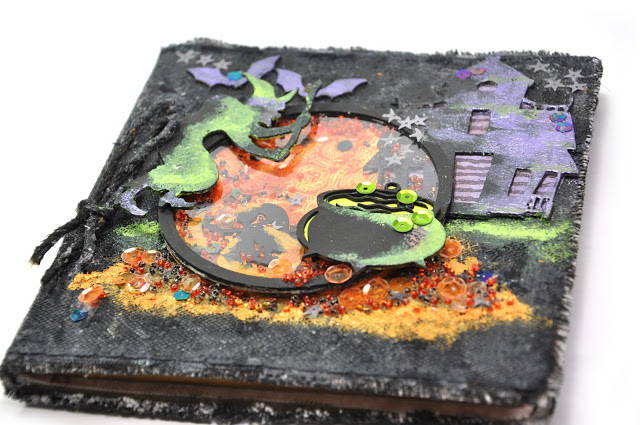 I painted the journal and all the chipboard pieces with black acrylicpaint to start the project.  I did take some time for the fabric on thejournal to dry and I did not attempt to assist with drying process with aheat gun.  It's hard waiting for the drying process - but sometimesthings need to dry naturally. 
Next, color was added back to the pieces as desired. The haunted house,bats and witch have some purple to pop against the starkness of theblack paint.
I also used some of Prima's Art Alchemy paints in green and orange because they add a beautiful iridescence.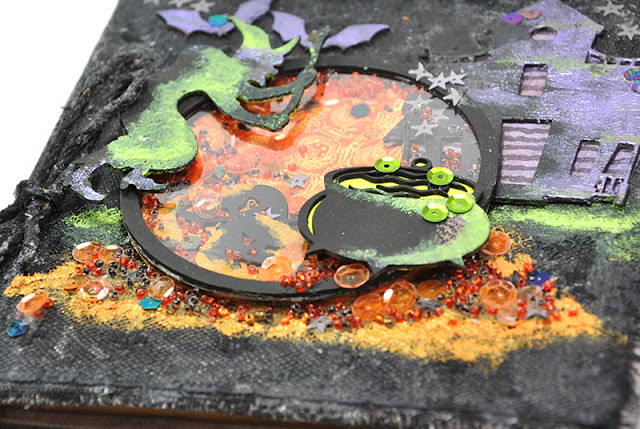 Last few steps: the shaker was filled with Trick or Treat Sequin Bead Mix shaker mix from Buttons Galore and More. Once the cover of the shaker was in place, I finished by creating ground to the scene.This was done by thickly adding clear matte gel medium to the journal and sprinkling the same shaker mix ( Trick or Treat Sequin Bead Mix ) on top of the gel medium and left to dry in place (again dried naturally - no heat gun because gel medium loves to bubble when heated).