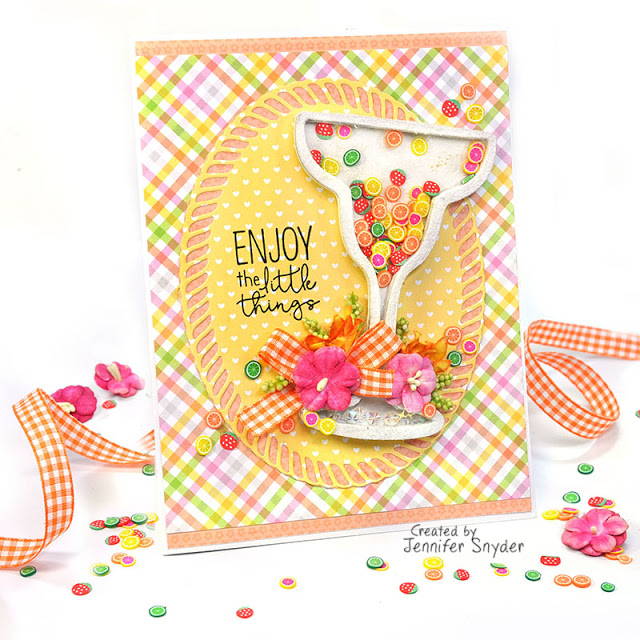 Celebrate the LittleThings - Shaker Card 
Today is all about celebrating the little   things - those little achievements that typically get overlooked. Some days (actually…most   days) it's all we have. 
  Summer is a great time to enjoy a  fruity celebration.  Whether you prefer a glass of sparkling water, fruit  juice or something with a bit more kick, I've got you covered.  Glam  things up a bit by serving your preferred beverage in a special glass -something a bit fancy.  We are celebrating after all. 
I am presenting a fun margarita shaker   glass from Creative Embellishments filled with the cutest shaker mix   from Buttons Galore  and More.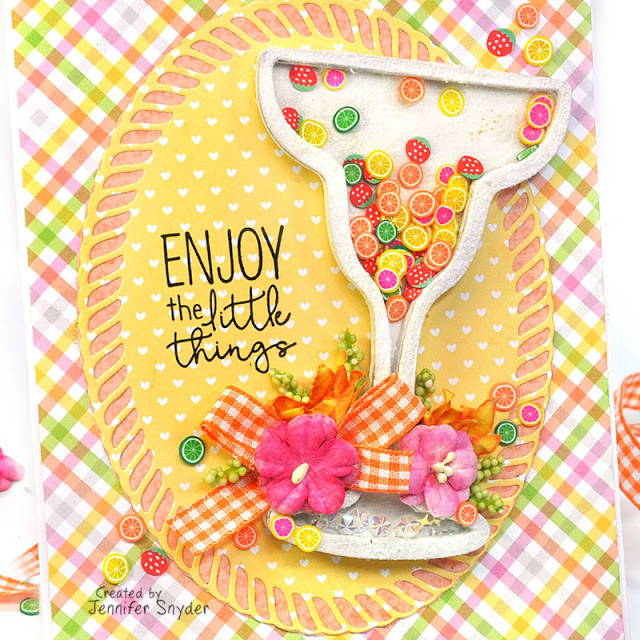 The Shaker Mix
What makes a shaker card come to"life"?  The shaker mix of course!  I'm using some new   mixes from Buttons Galore:  Sprinkletz - Fruit Cocktail  and   Polar Wind Doo Dadz.  The new Doo Dadz collection  is unique and adds a touch of sparkle to my glass.
I separated the two shaker mixes by usingthe Polar Wind Doo Dadz on the bottom section of the glass.
The adorable fruity Sprinkletz make me  smile!  Those orange slices - so fun!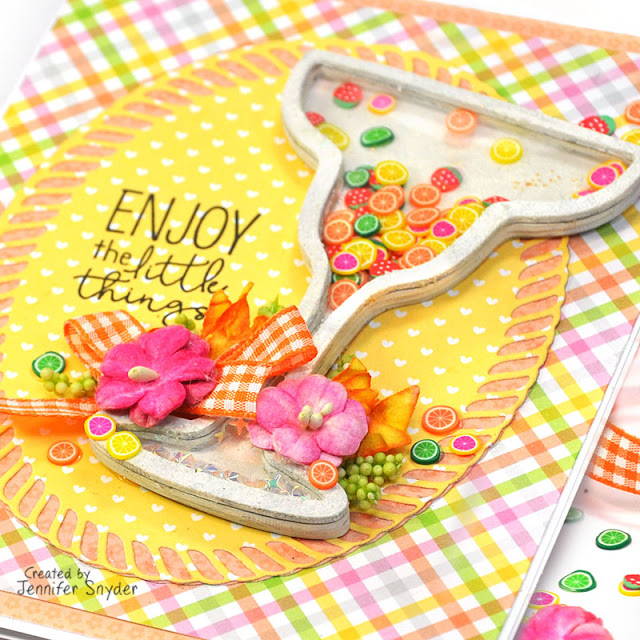 Repurposed Paper andSentiment - From Baby to Cocktails
We recently had our first grandchild, a little  girl,  and I wanted adorable paper for special baby cards. 
I purchased Doodlebug's - Bundle of Joy  Collection  because the colors and patterns are joyful and make me  smile.  
Re-purposing supplies is a cool way to stretch  your supplies and budget.  This is a great example of using paper  collections for other than the intended purpose.  While the collection  theme is the celebration of a baby girl, most of the patterns in this sweet  Doodlebug collection lack any reference to babies.  Setting the baby theme  aside, the colors actually remind me of a fun fruit salad - or how about a fun  fruity summer drink?  Yep - that too. 
And that's how baby paper became my summer  cocktail paper. Makes sense, right?  
Circling back to  the baby theme again.  The shower theme was baby animals and it so  happened FSJ Fun Stampers Journey/ Spellbinders has a darling Baby Farm Animals Stamp Set. How lucky am I! 
Today's economy   favors those products that are versatile and can be repurposed.  
In the process of   finding the perfect sentiment for my fun cocktail shaker card, I pulled this   stamp set out again and used my all-time fave sentiment stamping   ink,  Black Licorice True Color Fusion 
from Spellbinders/ Fun Stampers Journey.  
Do not overlook the   sentiments on your stamp sets.
This card features some other Spellbinders  products as well. 
Thedecorative   oval die is from Spellbinders Elegant Twist Collection by Becca Feeken. I love oval  dies because they are so versatile and such a card making staple.  This  die has added pizzaz.  
Once again, I'll tell you how much I love  Spellbinders Black Licorice True Color Fusion Ink Pad
for stamping sentiments and images.  My  favorite ink for clarity and small details and doesn't bleed.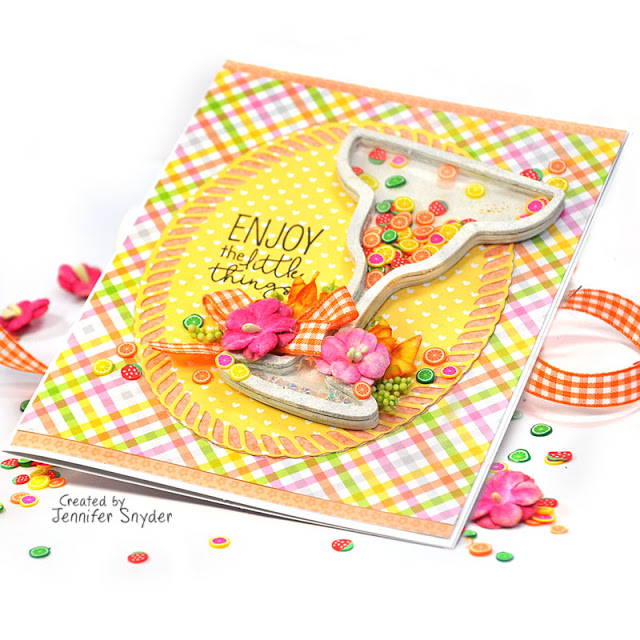 I have a few other products I need to mention  because they have added such convenience to my shaker making crafty life. These are products I love when using Creative Embellishments - Shaker Sets.  
Fave!
The Crystal Ninja CRYSTAL KATANA Mixed  Media Pick Up Tool and Nuvo - Deluxe Adhesive for gluing the  shaker layers together.  This dries crystal clear and has a super fine tipfor apply small thin lines of adhesive.