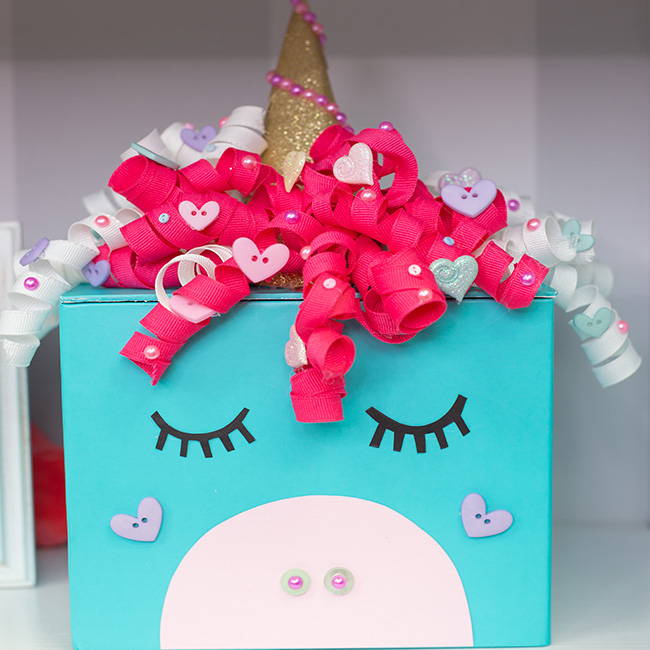 Lily has so many mementos and keepsakes and nowhere to keep them until now! I discovered Buttons Galore & More at Creativation and I was instantly intrigued. After taking some time to search through their thousands of creative embellishments I was inspired to create a unicorn keepsake box for my sweet Lily. I love this box because you can use an old gift box and it could also be used a jewelry box, bow box or gift box for a little girl! Check out the easy how-to video below. I listed all the supplies and instructions below the video!

Supplies:

Rainbow Unicorn Shaker Mix

Shimmering Hearts

Hello Cupcake Embellishment Kit

Candy Hearts

Pastel Micro

Gift Box

Hot Glue Gun and Glue

Card Stock

Curled Gift Ribbon

Sparkle Card StockClear

Plastic (Tip: use the packaging from the buttons)

Scissors

Gold Sticker Letters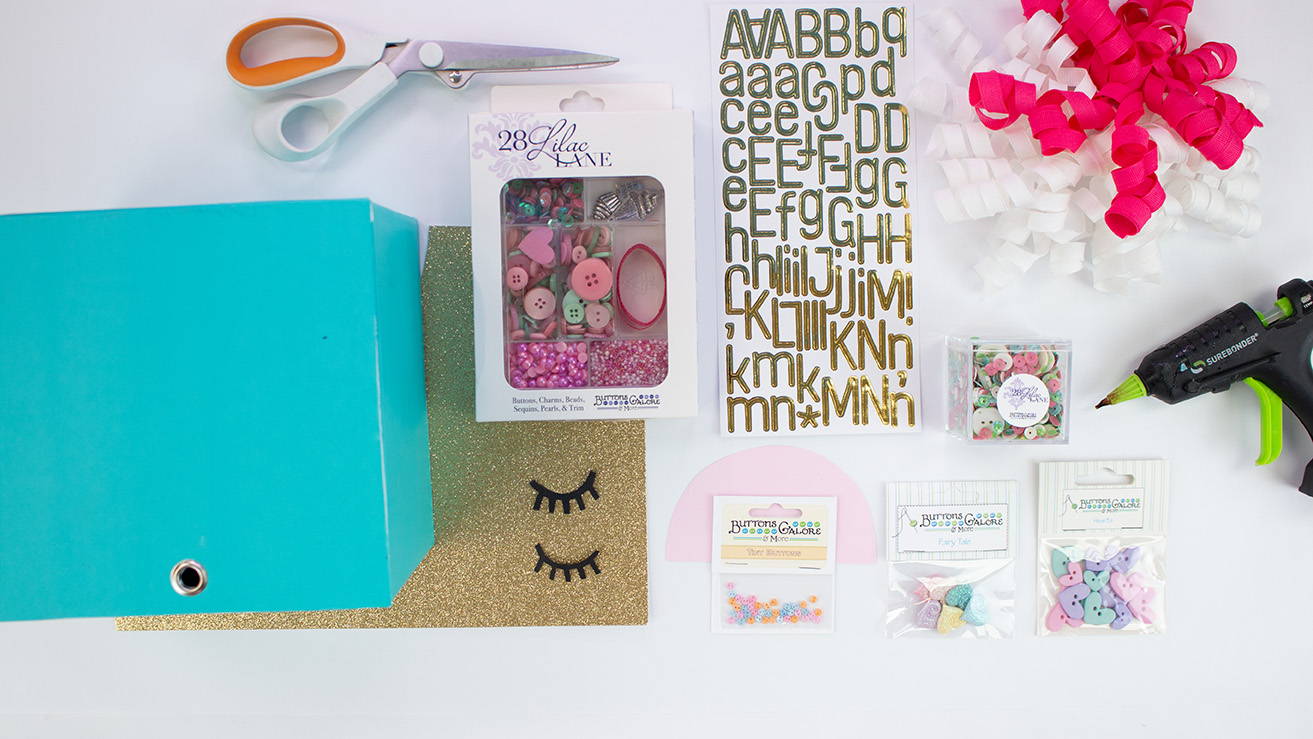 Directions:
Take a piece of thick plastic. Ideally you can use a packaging fromyour buttons. Fold it over (if it isn't already folded). Add stickerletters of the name of the child who will get this beautiful box!
Glue the square on three sides.
Fill the pouch with the Rainbow Unicorn Shaker Mix. Glue the fourth side shut.
Glue the pouch to the inside lid of the gift box.
Glue ribbon trim around the edges of the pouch. I used the ribbon that came in the Hello Cupcake Embellishment Kit.
Add a charm from the Kit to the top of the inside lid for a special touch.
Close the lid.
Roll a piece of glitter card stock into a cone. Glue the enamel dotsfrom the Hello Cupcake Embellishment Kit in a spiral around the cone.
Cut eyelashes out of black card stock and glue to the front of the box.
Cut a half circle from pink card stock for the unicorn snout and glue to the front of the box.
Glue two Candy Heart Buttons to the front of the box for the cheeks.
Add buttons for the snout nostrils.
Close the box lid and turn right side up.
Glue the horn on top of the box towards the front.
Add gift wrap curly ribbon around the horn.
Glue Candy Heart Buttons, Shimmering Heart Buttons and Enamel Dots to the curly ribbon.
Fill the box with special momentos!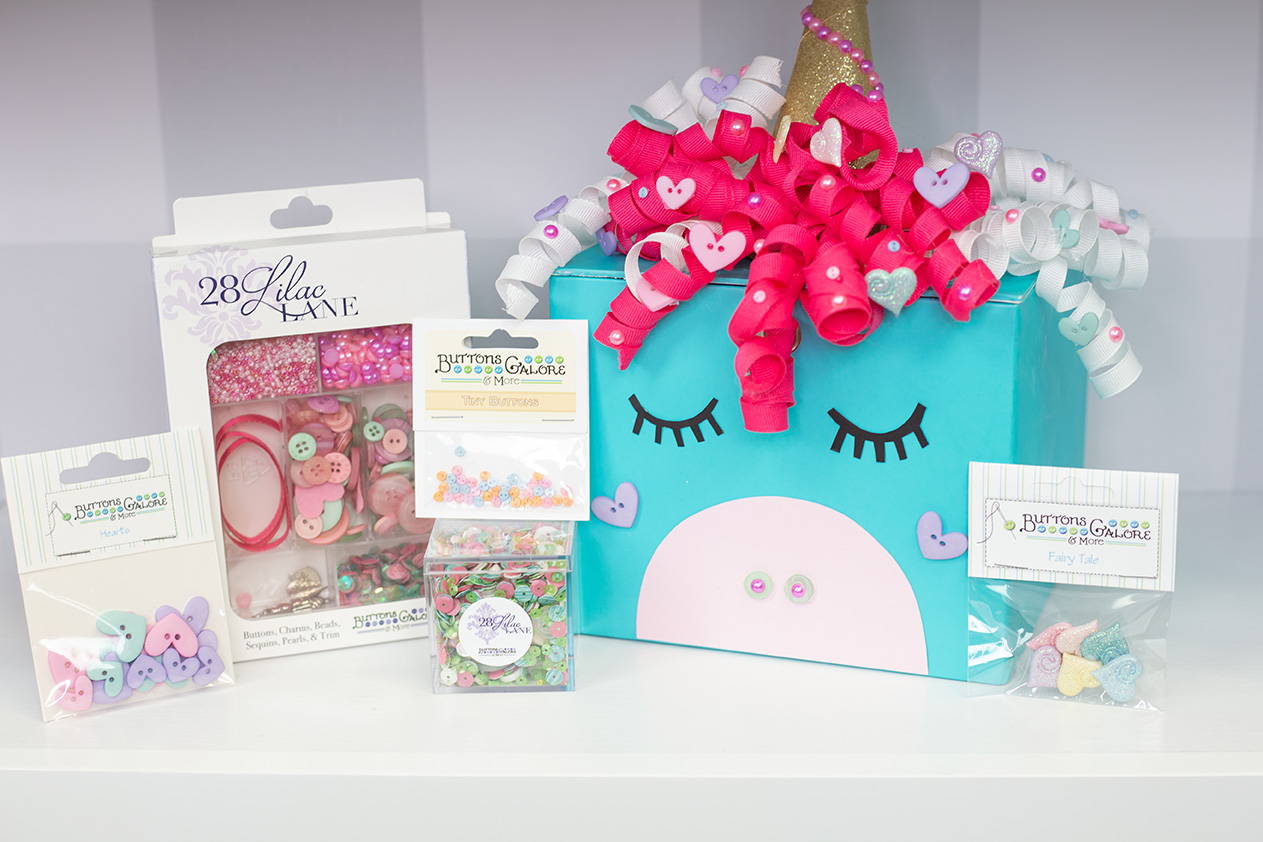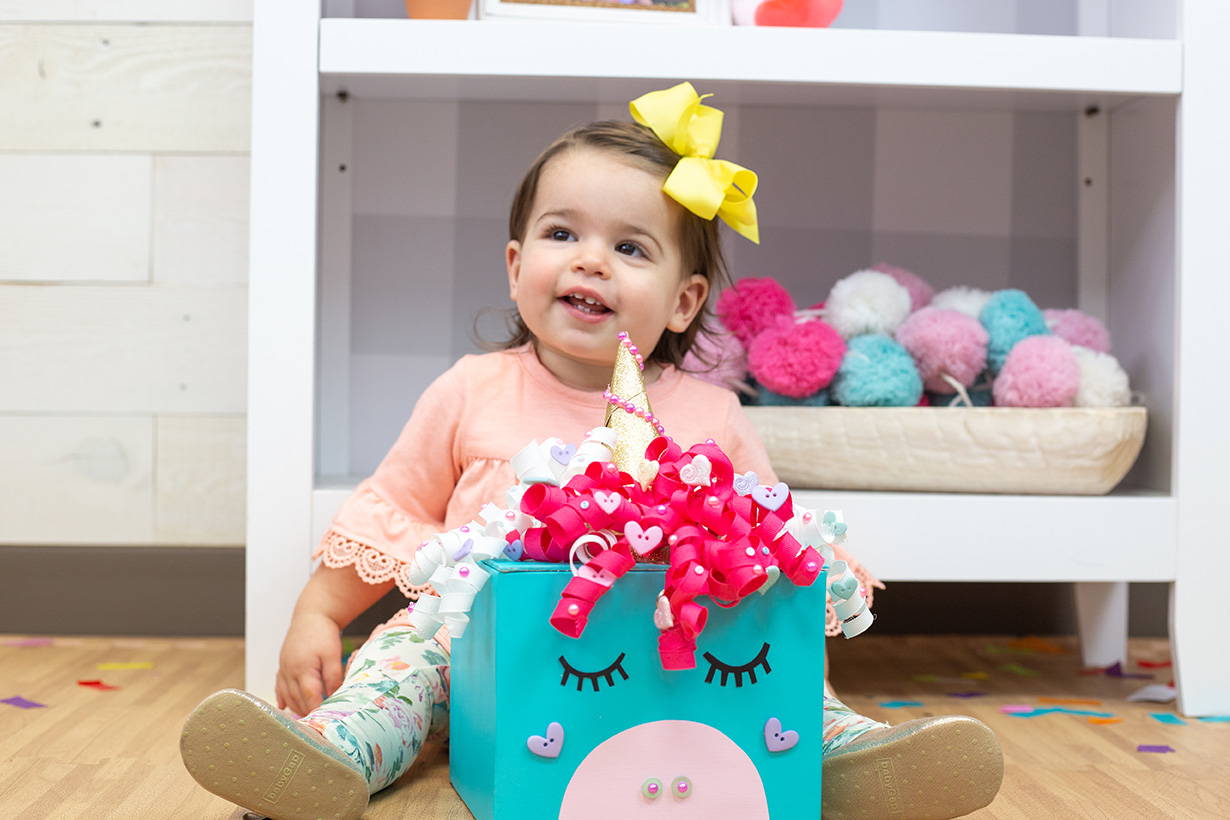 I am so excited to keep adding special keepsakes to this box for mysweet Lily! This is the first of many fun projects I will be doing inpartnership with Buttons Galore & More. I am so excited to share allthe amazing products they have to embellish your crafts andcelebrations!
Connect with Buttons Galore & More: website | facebook | instagram | pinterest | twitter
xoxo- LL