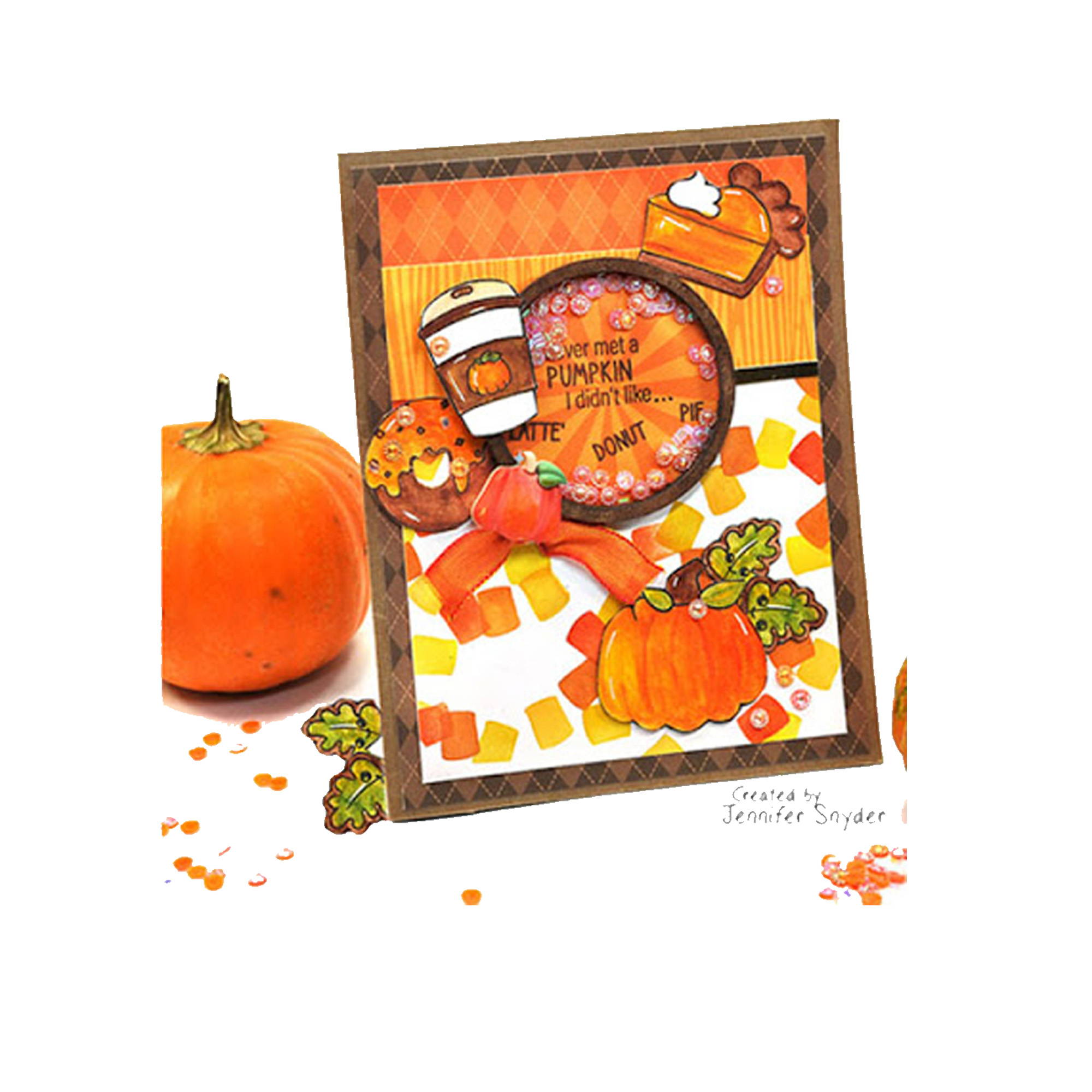 Autumn is here.  The season offers  wonderful warmth - from the colors, to the smells, and the warm soothing  drinks.
When I saw Sassy & Crafty' s adorably  delicious Pumpkin Spice Stamp Set, my comfort food brain jumped for sweet  joy.  Pumpkin spice?  Yum - perfect for creating fun and cheery  shaker cards to celebrate the warmth of Autumn and the fun side of Halloween.
The background of the card was created using  Sassy & Crafty's Marshmallow stencil with  various distress inks layered with candy corn colors (a variety of orange andyellows) - another of autumn's yummy treats.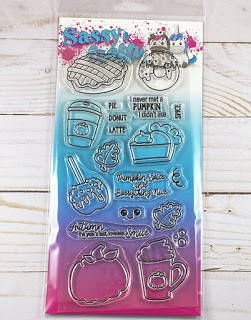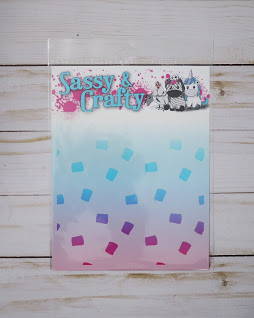 Here's a closer look  at the delicious stamp set.  Donuts?  Pie?????  Latte?  oh  my!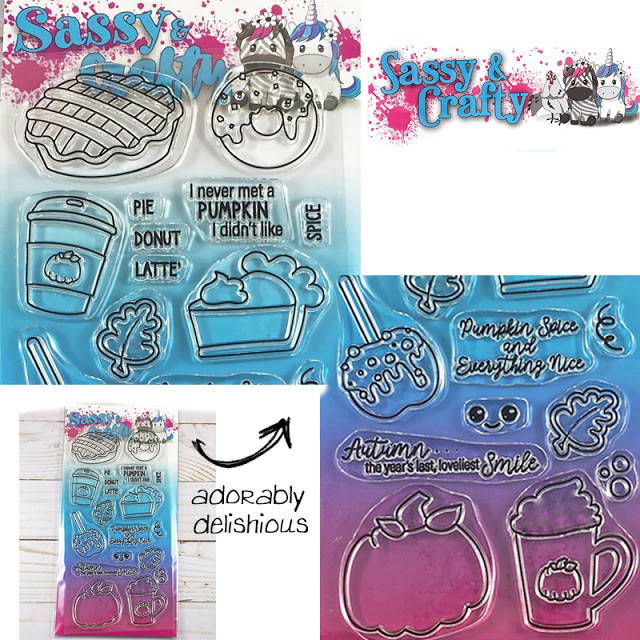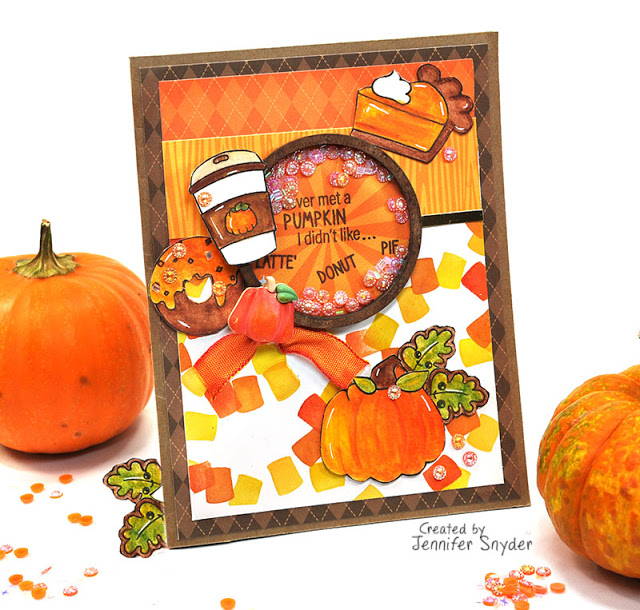 The shaker and Buttons  Galore's  Shaker Mix
The magic of the shaker card is all in the  shaker mix.  It's true.  Buttons Galore's Doo Dadz mix is  unique and will add the perfect amount of bedazzled magic to your  project. 
This card features Buttons Galore  Marmalade DooDadz as well as a 3D pumpkin button from Buttons Galore's Autumn Bounty 3DButtons collection.  The 3D buttons are  perfect little toppers to finish off  any project.  
The chipboard circle shaker is Creative  Embellishments - Atc Coin Ring And Shaker Pieces and are perfectly sized   for cards measuring 2.5" diameter.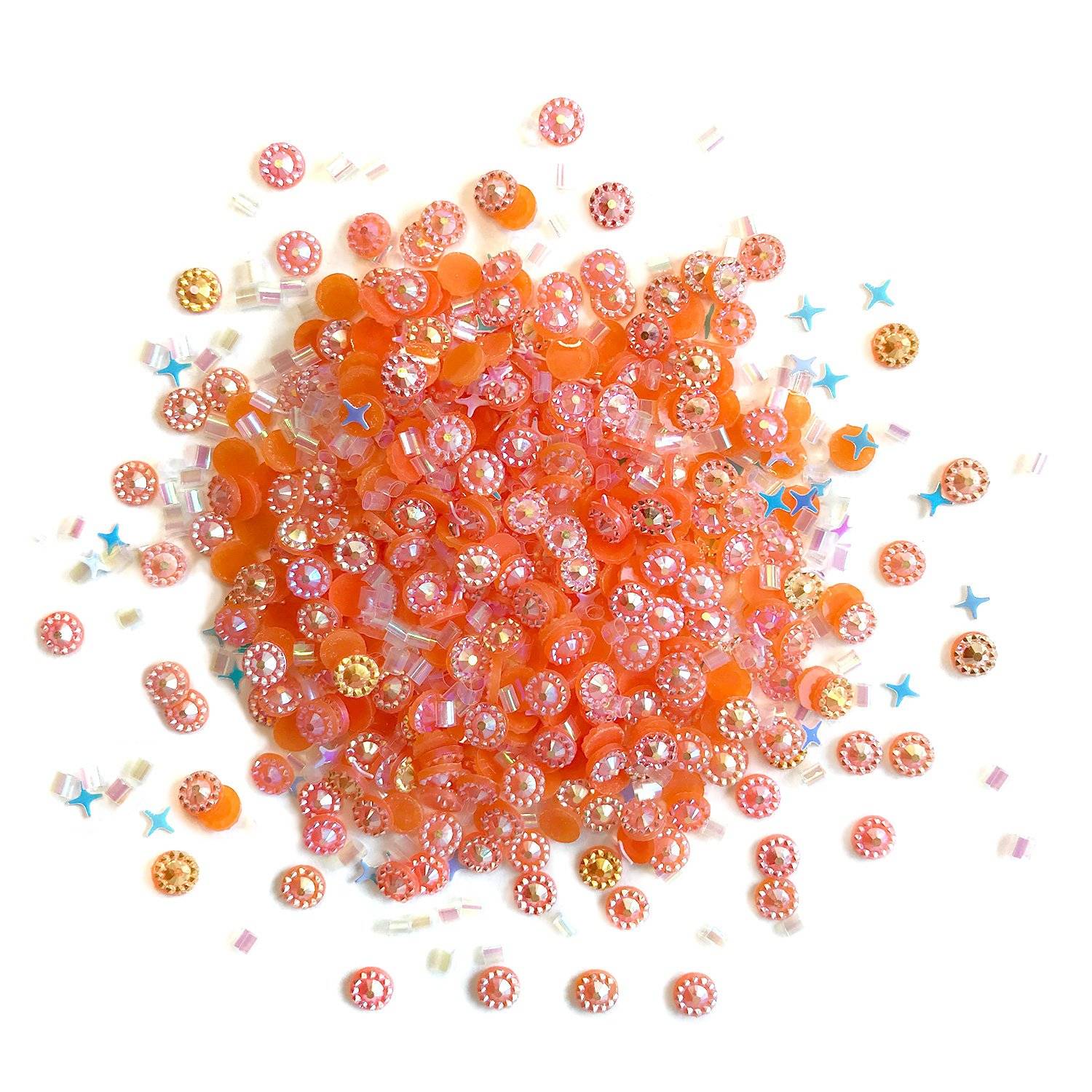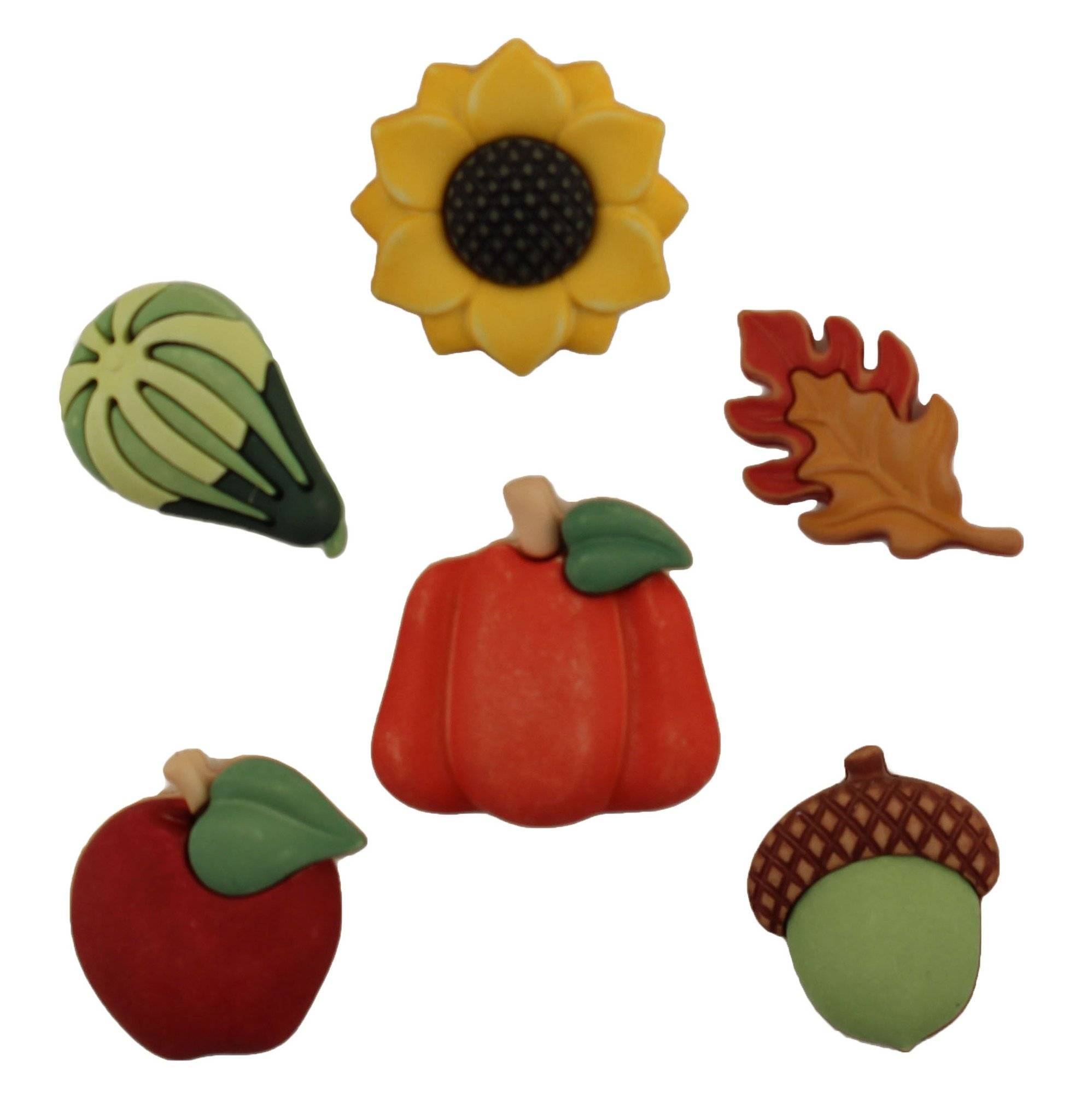 The chipboard circleshaker is Creative  Embellishments - Atc Coin Ring and Shaker Pieces and are perfectly sizedfor cards measuring 2.5" diameter.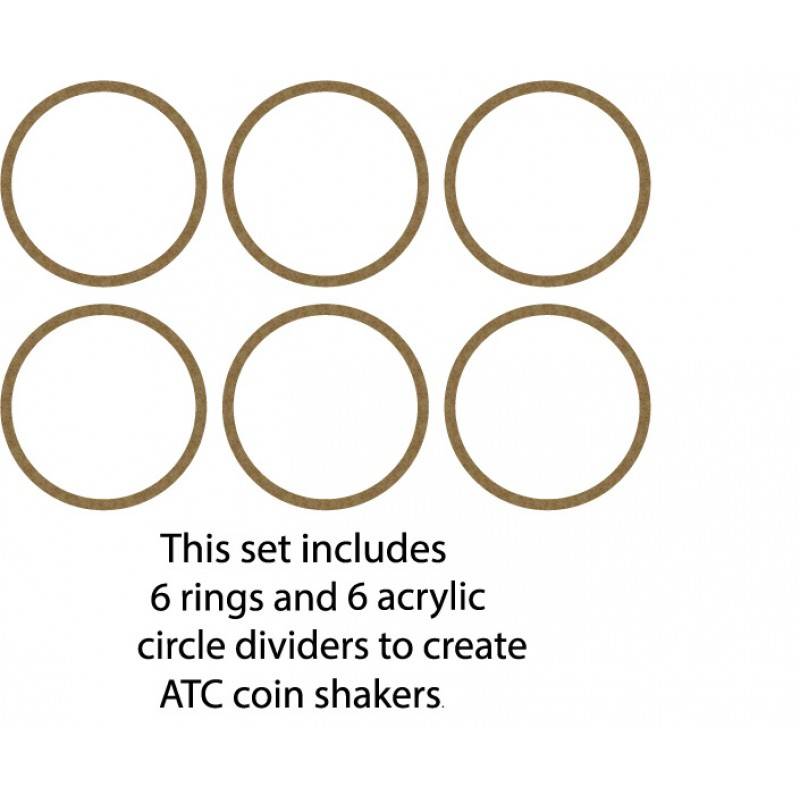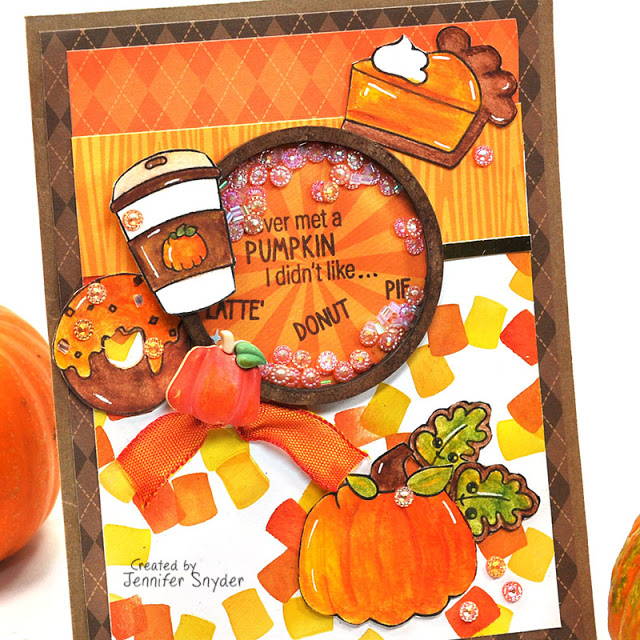 Coloring the Stamps
The stamps were colored using water colored  pencils from Faber-Castell.  I stamped the  images using Spellbinders Black Licorice  Ink Pad and a stamping  platform ( I like the Hero Arts - MISTI ).  I use the platform  because I can keep stamping until my image is perfect.  
The stamped sentiment inside the shaker says," I never met a PUMPKIN I didn't like...Pie....Latte....donuts.  This sentiment is part of the Sassy & Crafty Pumpkin Spice Stamp  Set.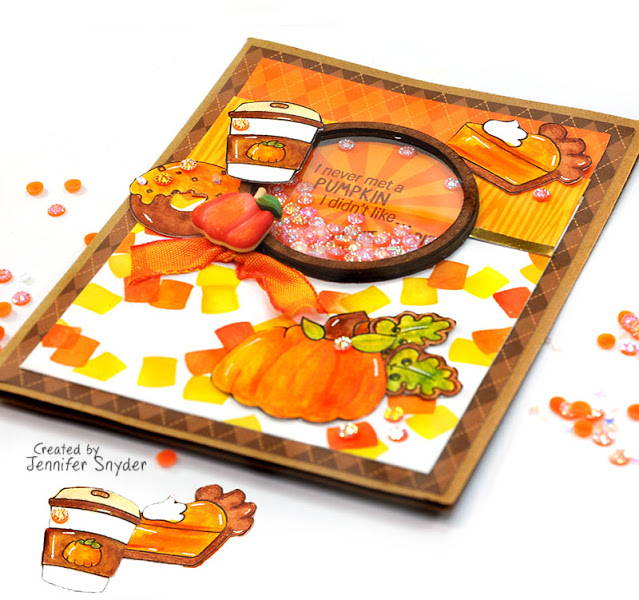 Thank you & happy crafting!