Merry Christmas, crafty friends. Today's project puts the spotlight on products from
Buttons Galore and More
,as well as papers and ink available at Scrapbook.com. I thought theseDIY Wreath Clips would be a fun addition for planners, gift bags andgift card decor. I decided to make some gift card envelopes to showcasethem. Scroll down for close up photos and creative details.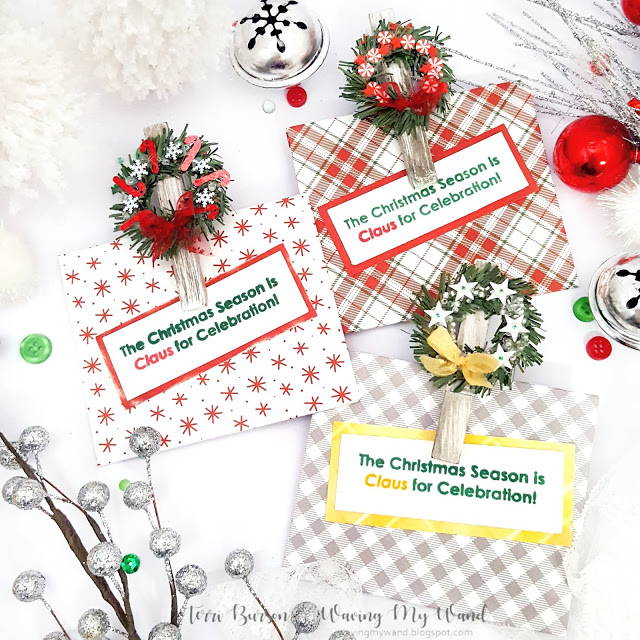 I am a huge fan of Buttons Galore and have so many of their products in my stash. When I had the idea to do these wreath clips, I sought out a few basic supplies which include the wooden clips and Christmas Pine stems, both of which I found after a quick run to Hobby Lobby. The stems were 50% off in the Christmas Craft section so I only spent $1.50 for the pack of 20! Go and grab those up! One stem yielded 3 pine strips which I snipped with a pliers and shaped into the wreaths. A touch of hot glue seals the overlapped ends together. Also, I found the wood clips in the party supply section of Hobby Lobby. They were a 6 pk for I think, $1.99.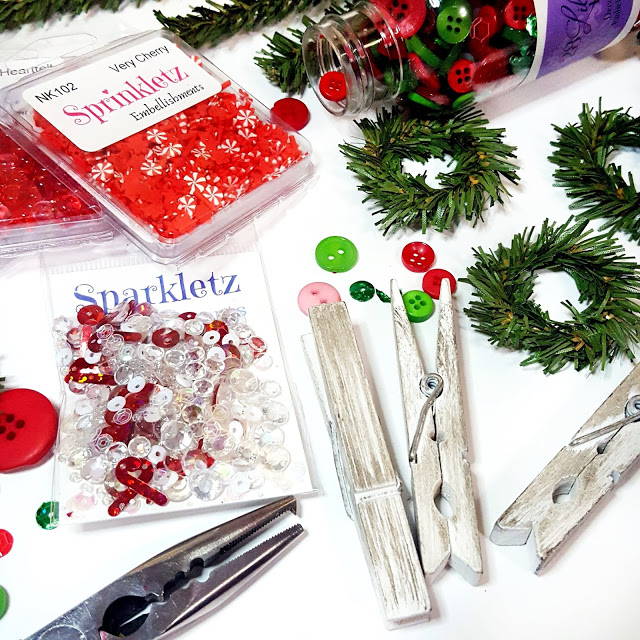 I created my 3 x 3 1/2 inch envelopes using my
We R Memory Keepers 123 punch.
Thisdandy tool has been used over and over and has been one of the bestinvestments I ever made! The paper is a 6x6 in paper pad exclusive toScrapbook.com and Photo Play Paper, called "
Best of Christmas
". As you can see, I tried to coordinate my wreath colors, with my paper.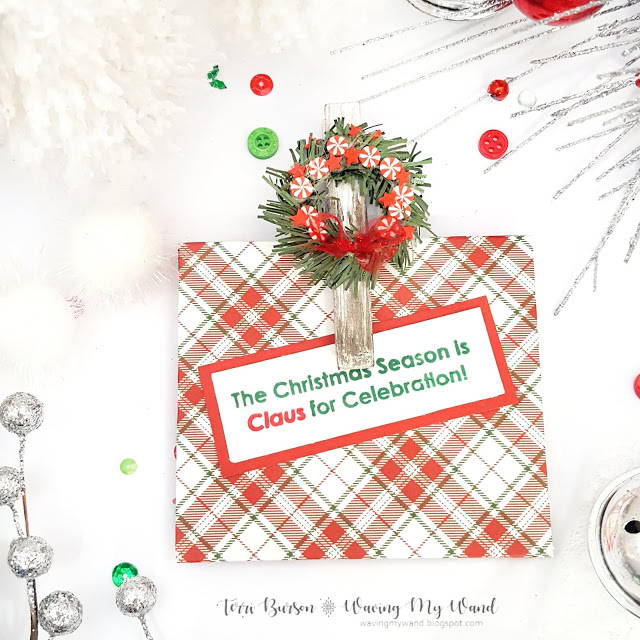 Here's a close up of the wreath, using the Buttons Galore Sprinkletz in
Very Cherry
. It has cute little peppermint candies ( or maybe they're cherry?), tiny stars and other decorative pieces.
My best tip for applying these is to grab a toothpick and grab the hotglue with your toothpick. Apply the glue from your toothpick onto yoursurface (in this case, the wreath), then quickly add yourembellishment. Press gently with the opposite end of your toothpick orother sharp tool for a few seconds to let it set.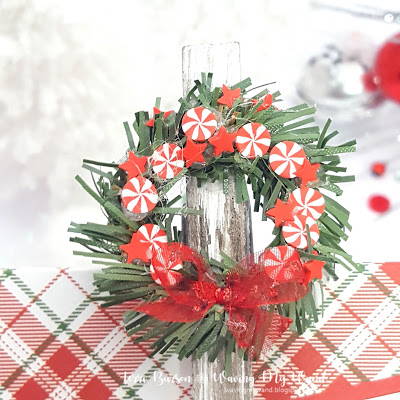 Next up, I went with a silver and gold theme for this one. This wreath features the
Starry Night
Embellishment Kit from the 28 Lilac Lane brand by Buttons Galore.
You're going to want to work fast on this one because the base, underthose stars, are a circle of seed beads included in the kit. Here's howto quickly get this done and get amazing results!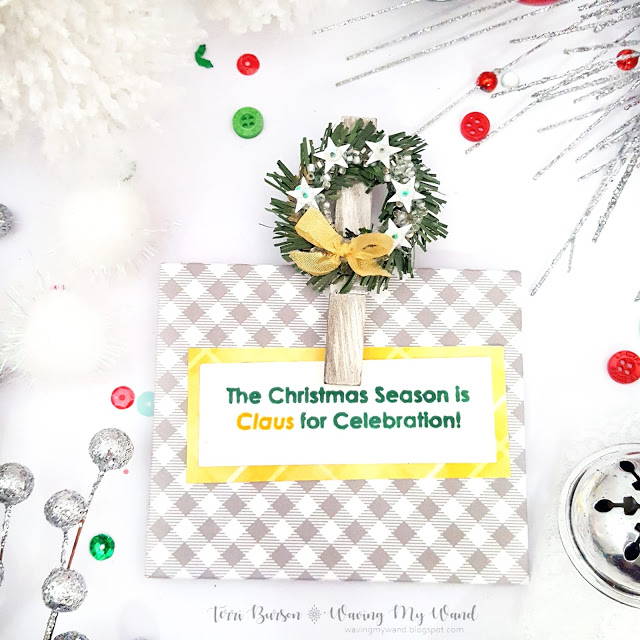 Next, apply your silver stars from the kit, using the toothpick/gluetechnique, then do the same, adding tiny, shiny sequins on top of thestars. I think this one is my favorite!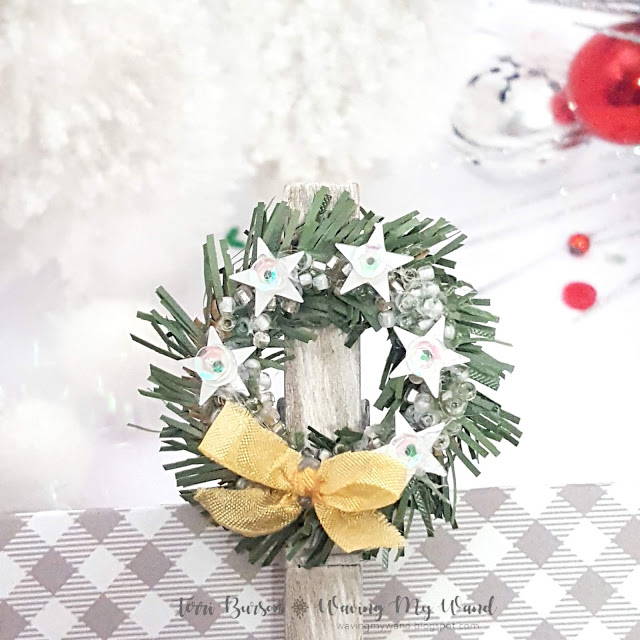 Let me also mention my little stamped quote. The stamp set is exclusive to Scrapbook.com and is called,
Christmas Fun Card Sentiments
. I stamped the sentiments with a masking technique, using hybrid inks. You'll find all the product links at the end of this post. Some of thesequin sets are available directly through Buttons Galore and I'velinked those throughout this post.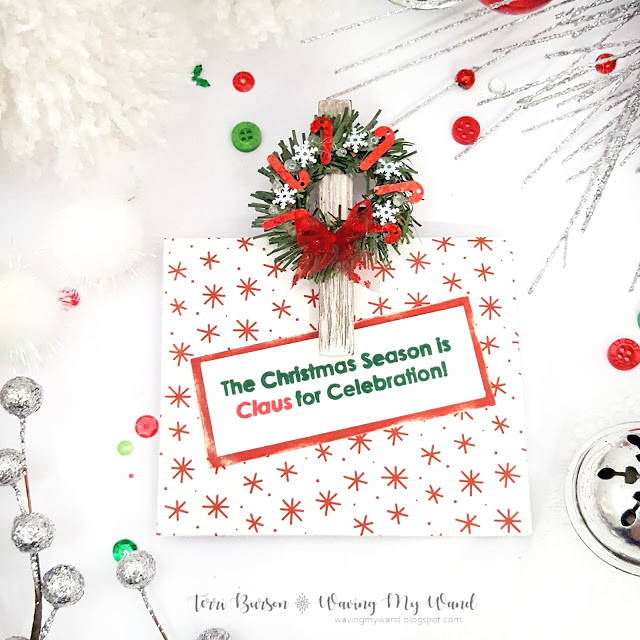 Fun Flurries Sparkletz
. I also glued on some of the clear tiny seed beeds. All of my wreathshave little tiny bows that I fashioned from ribbon in my stash, as well.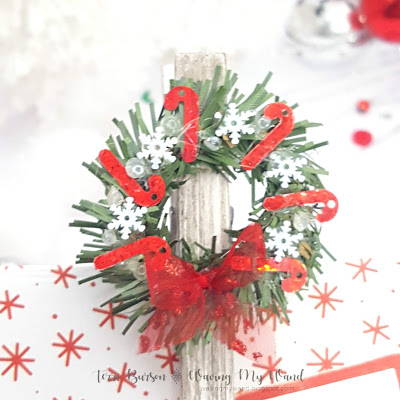 I hope you enjoyed this fun project and will give this a try. May youall have a wonderful holiday season. Stay crafty, friends! Terri