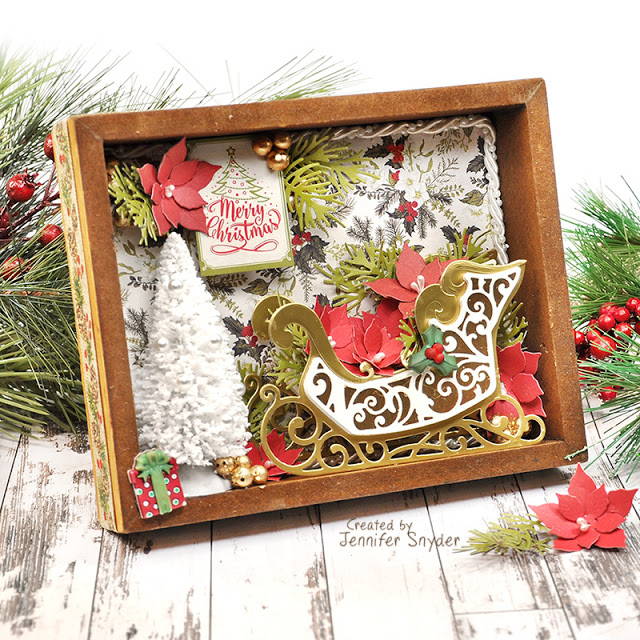 Hello  friends. Today I am sharing a dramatic Christmas DIY home decor makeover  made using some products that make a perfect pairing;  Authentique's Christmas  Greetings collection and coordinating Authentique's Spectrum solid  colors collection accentuated by Spellbinders Amazing Paper Grace  (APG) Die of the Month  for November.  
The idea was to takea boring wooden plaque and turn it into a dazzling shadowbox.  Scroll down  the blog page for the instructions. 
Below is the image  for the gorgeous APG Die of the Month for November from Spellbinders.  The  APG stands for Amazing Paper Grace designs by Becca Feeken.  The photo is  from Spellbinders and is the sample image for the die.   
Below  are the Authentique products used on the Christmas Shadowbox:  Authentique  Paper - Christmas Greetings Collection - 12 x 12 Paper Pad,Authentique Paper - Christmas Greetings Collection -12 x 12 Double Sided Paper - Number Four, a mini ephemera card from Authentique Paper - Christmas Greetings Collection - 6x 6 Paper Pad.  I also used two sheets from Authentique's Spectrum paper pad: Lady Bug and  Crocodile Smile.
I am always on the  hunt for clearance and discounted home decor pieces at big box stores and  thrift stores that I can flip around and use as shadow boxes.  I'm  interested in wooden frame type items that are deep enough to gussy as I want.
Today's featured  piece was found at a big box national chain (on sale of course) and it has rich  brown wood sides so I really don't need to do anything to the wood frame.
I have some simple  instructions to show you this dramatic transformation.
Step 1.  Flip  frame around to decorate the inside.  Cut the Authentique Paper -Christmas Greetings Collection - 12 x 12 Paper Pad to size and glue.
Step 2.  Add trim  or decorative cording around the inside edges of the box to hide the  imperfections.  My favorite trick to use to make the project appear  finished and polished.
Step 3.  Fill the box  with embellishments.  Die cuts, tree, flowers.  I also cut a mini  ephemera card from the Christmas Greetings Collection - 6 x 6 Paper Pad to  convey the Christmas message.  There are so many great ephemera cards to  choose from in the collection.
Step 4.  Finishing  touches - include gold floral berries, pearls for the tree from Buttons Galore (Pearlz), and 3D Holly Buttons and gift buttons from Buttons Galore.
Step 5.  Final step was  to add ribbon around the outside of the box.
This image below shows some of the details and embellishments used on the shadow box.  

The dies used are included in one die set from Spellbinders (APG Diefor November).  This set has the  fabulous festive poinsettias and greens along with the ornate sleigh.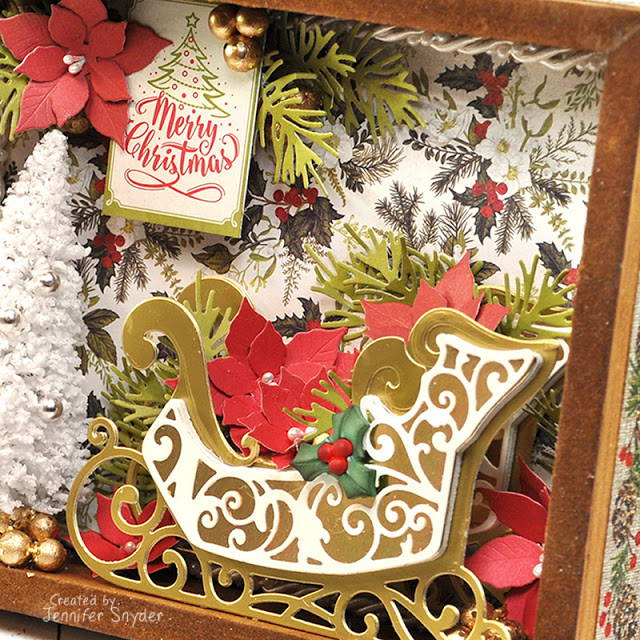 The  next two images show the ribbon added around the outside of the box.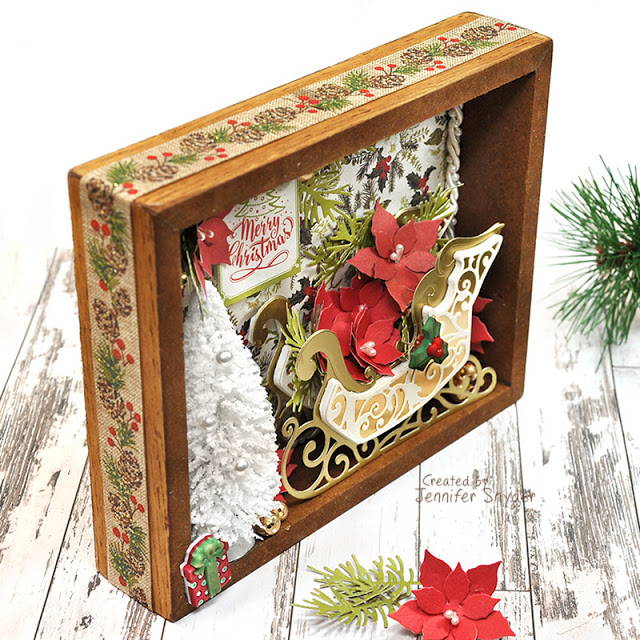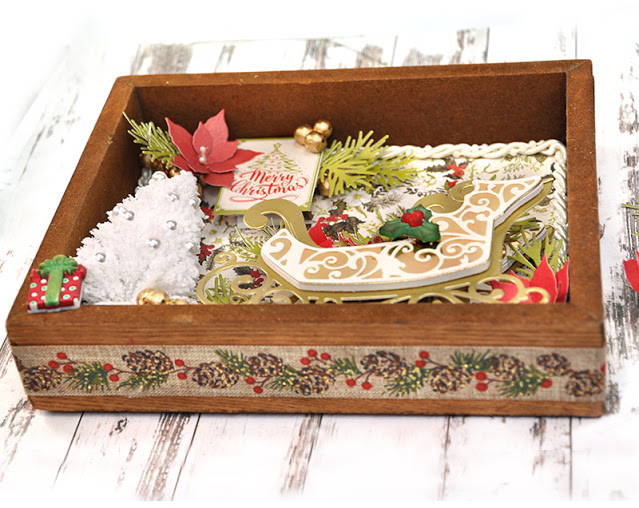 Thank  you for stopping here today and happy crafting.