Hello, everyone! This is Katie from the Buttons Galore & More Design Team and today I have a fun Halloween Photo Holder project that you can make to display those Halloween photos or reminders!
This Halloween Photo Holder is perfect for the Halloween season, due to all the pictures you will be taking during the holiday month. With that being said, even though I'm labeling this project as a photo holder, it could also hold other items as well. For example, it could hold notes, reminders, or that special Halloween party invitation. 
To decorate my Happy Halloween Photo Holder, I decided to go with a vintage Halloween look. I achieved this look by using scrapbooking paper that had a vintage Halloween theme and by using the Buttons Galore & More ''Scary'' button tote. This particular button tote was a perfect color palette to use in this project because it included all of the main Halloween colors. Besides the color selection being great, this pack of buttons also provides a wide variety of buttons in different styles and in different shades of those main colors. Overall, whether you like a vintage, modern, or spooky Halloween look, this button pack (I believe) could be used to achieve any number of styles. 
 So, to find out how to make your own Happy Halloween Photo Holder, keep reading below!
wooden sign
wooden house shape
wooden Happy Halloween phrase
small wooden close pin
Halloween scrapbooking paper (I used Carta Bella Trick or Treat collection)
paint
foam brushes
Mod Podge Glossy Decoupage Glue
scissors
twine
hot glue gun + glue sticks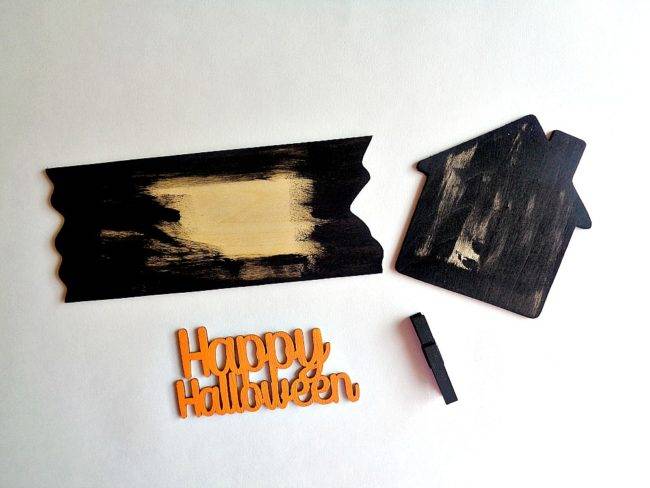 Step 1: Paint your wooden pieces in whatever colors you like and then set them aside to dry.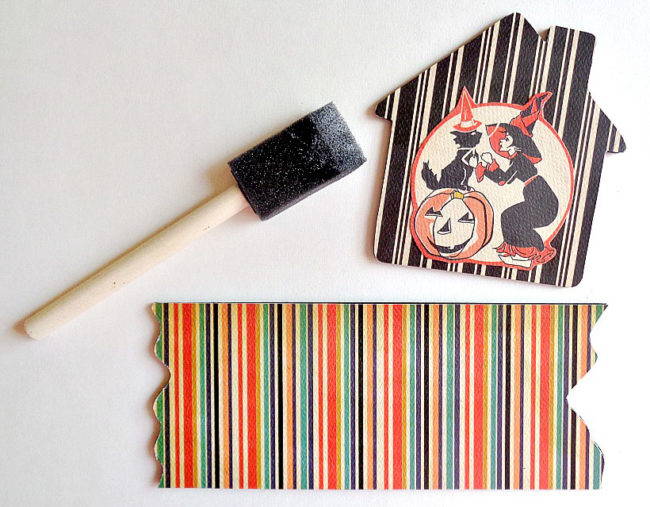 Step 2: Cut out pieces of scrapbooking paper that will fit on the front of your wooden sign and on the front of your wooden house shape. Then grab your Mod Podge and adhere those pieces of scrapbooking paper to your wooden pieces. Finally, set everything aside to dry.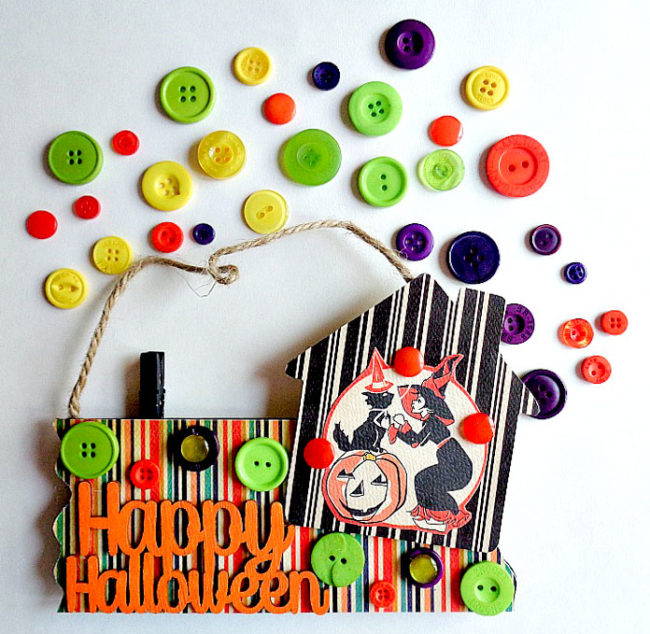 Step 3: Grab your hot glue gun and begin assembling your photo holder! To do this, first glue on your ''Happy Halloween'' phrase and your wooden house shape to the main wooden sign. Then have fun decorating the sign by adding all the buttons that you like! For my photo holder, I chose to use a variety of buttons from Buttons Galore & More ''Scary'' button tote. 
 Once the front of your photo holder has been decorated, flip it over to the back. Then hot glue your close pin to the back of your sign with the clamp side facing up and sticking out over the edge of your sign. Finally, glue on a piece of twine to create a way to hang your photo holder. 
 Once you have added your twine you are ready to display your new Happy Halloween Photo Holder!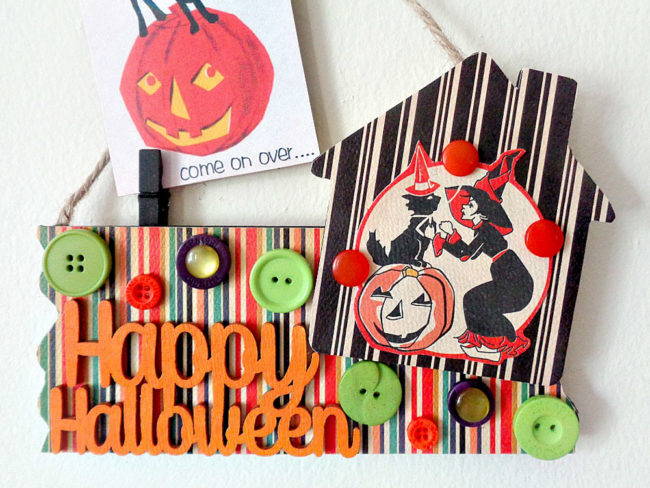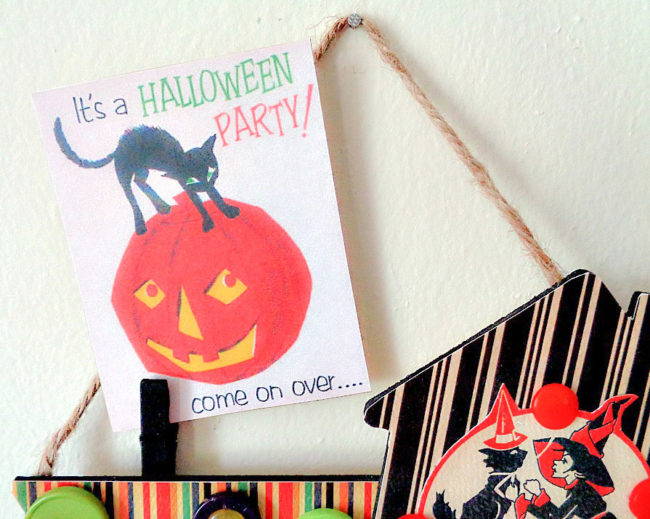 I love how this Happy Halloween Photo Holder turned out! It would look so cute hanging in an office or even on a simple cork board.This design could be adapted for any holiday (such as Christmas) by changing up the buttons and paper. 
What holiday would you like to make it for?