I love making button collages on small items – you may remember my button collage apple on my teacher tag awhile back. Collage die cuts are a fun and simple way to add some dimension and detail to a design. Today, I'm falling in love with a button collage heart for Valentine's day!
Buttons Galore Strawberry Cheesecake Color Blends 
28 Lilac Lane Pretty Princess embellishment bottle
PPA Matte Adhesive 
Simple Stories "Love & Adore" 6×6 paper pad 
white cardstock 
white card base 
Cricut Explore machine 
Ranger Tim Holtz Distress Ink in Picked Raspberry 
Crate Paper "Heart Day" stamps
I started this card by cutting my 3″ high heart out of plain white cardstock on my Cricut Explore using the software's basic shape tool. Then, starting in the upper right corner, I gradually spread white liquid adhesive (PPA Matte) over small areas and filled them in with the Strawberry Cheesecake buttons.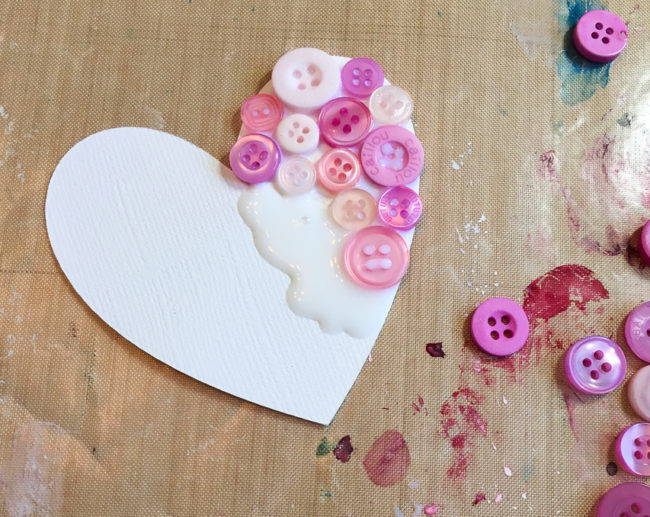 While my glue was drying on my button collage heart, I cut my background paper to the size of the card front and adhered it. Then I stamped the sentiment on a strip of the white cardstock. Once the ink was dry, I snipped the ends to create a banner look for the sentiment strip.
The button collage had white spaces showing through between the buttons after the glue was dry. To fill these in, I dropped spots of glue on them, and pushed seed beads from the Pretty Princess bottle down into them. Some of the white edges also weren't entirely covered, so I ran beads of glue along those areas and pressed beads into there as well.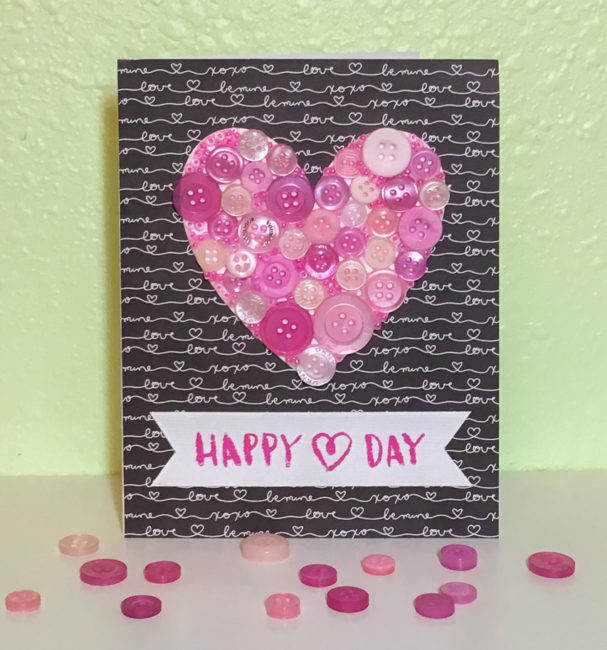 After all the glue was dry, I simply attached my heart and my sentiment strip to the front of the card. This simple design has a lot of "pop" from the color contrast and the button detail. I can't wait to share it with someone special!