Whether you are looking for a last-minute gift idea, or to brighten yourhome decor for the new year…this mixed media wall art project by 28Lilac Lane designer May Flaum is just the thing for your walls. It's aneasy home decor canvas that can be completed in just a few minutes, butpacks a visual punch!
Only a few basic supplies are needed for creating this project:28 Lilac Lane "Birds of a Feather" embellishment bottlecanvasgold leafingHeidi Swapp Color Shine Mist in GoldRanger Stickles in Goldacrylic paint in shades of blue, white, & greenliquid adhesive (such as PPA Matte)The mixed media technique for this easy home decor canvas is messy and random looking – and therefore very forgiving and difficult to screw up! Just smear the shades of paint in one direction across your canvas – and remember to make sure it is nice and thick for a beautiful textured look.Next, use your palette knife to smear a shape into the paint. Use liquid adhesive to add your embellishments and gold leaf on top of the smeared shape. Finally, spritz with gold mist for an extra touch of shine!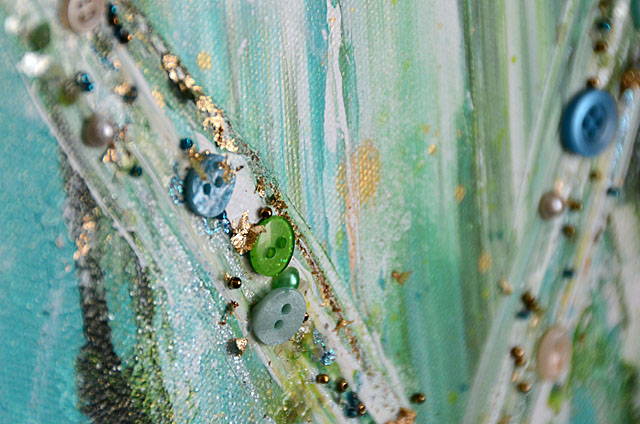 It's that simple to create beautiful wall art! And don't forget thatMay's mixed media technique on this easy home decor canvas can beadapted very simply to many color schemes and shapes. Try the 28 LilacLane Hello Sunshine bottle with shades of yellow and white paint to create a beautiful moon for a nursery wall. Or create a heart in shades of pink using Pretty Princess to add a touch of artsy elegance to a dorm room. The possibilities are as endless as our color palette of 28 Lilac Lane embellishment bottles!